15FT CONTAINERS
New shipping containers are almost always made to the lengths of 20ft and 40ft, which is fine if you want a 20ft or 40ft container, but if you are looking for 15ft of storage space then why pay more for an extra 5 feet surplus to requirements? This is where container modification comes in - to produce
15ft containers
, and other "in-between" sizes.
Making 15ft containers
In order to produce 15ft containers, we take these larger ones and cut them down to the size. For instance, a 40ft container can make two 15ft containers, and one 10ft. modification procedure involves restructuring container ends and doors on some containers - as you can visualise, if you are making three new containers out of one larger one, you'll be two ends and two doors short! This is why you will see some 15ft containers with the original doors left in place, and others with new doors.
Choose from either a once-used, or used shipping containers.
Shipping containers used for storage
It's important to note that 15ft containers are only suitable for storage, because once altered they no longer tick all the boxes required by the
International Standards Organisation for sea transportation
. However, they do make great storage containers! Nothing can beat the properties of a shipping container which make it the sturdiest container around. Made from the most durable type of steel, it can endure heavy weather, knocks and bashes and keep intruders out too.
To get even more out of your storage container we have a range of optional extras to choose from:
We also offer luxury upgrades, with features such as external wood cladding,or patio doors. See our full list of
container upgrades
.
Door types for 15ft containers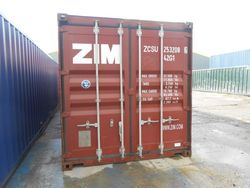 Once the container has been cut down to 15ft, we then offer our customers a
choice of doors
. The easiest option is to leave the original shipping container doors in tact. Shipping container doors are robust and watertight with a protective rubber seal. Generally we recommend shipping doors for containers to be used on building sites or industrial storage To view shipping doors, see the
15ft S2 model
.
However, not everyone likes to, or needs to struggle with heavy doors every time they need access to their container! Therefore we offer a choice of doors made specifically for containers used for storage.
Storage doors for 15ft containers
We offer two types of storage doors made from flat steel panels, which reduces the bulk, and weight of the door, making them much easier to open and close. Choose from our standard S1 storage door -
compressed door seal
available as an extra. Or upgrade to our S3 model, which has the added benefit of a rubber seal and double locking bars.
To view storage doors, see the
15ft S1 model
, and the
15ft S3 model
We offer a fourth option for storage containers - the
roller shutter S4 door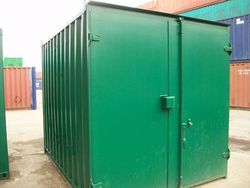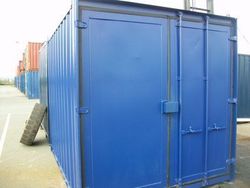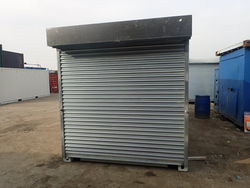 Testimonial
"Highly recommend Containers Direct, from ordering through to delivery was very smooth and efficient. Good quality used container at a very competitive price."
From Simon Merrick, Didsbury Garden Services Ltd