15FT CONTAINERS FOR SALE
Containers Direct have a number of 15ft containers for sale to bridge that gap between the 10ft container and the 20ft container. These are suitable as storage units. Many of our customers find a 10ft container often gets crammed to the rafters over time, but are reluctant to buy a 20ft container as it takes up too much space to site comfortably on their premises. To meet the demand for something in between we keep a constant supply of 15ft containers in stock.
What is a 15ft container?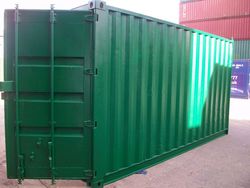 15ft containers are converted shipping containers. They are not generally manufactured from new as they do not fit the size requirements set down for shipping, so we fabricate our own 15ft containers for sale in our own workshops, using our years of knowledge and experience to produce a container that combines all the advantages of a shipping container with the convenient features of a storage container. Shipping containers make superb storage units as they are designed to bear great weights, and keep the contents dry and secure from break ins. Made from high density steel with anti rusting qualities, using a shipping container for storage guarantees you a quality product that will last many years.
Take one 40ft container......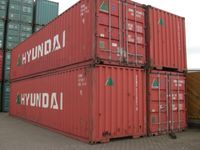 The process of converting a standard 40ft shipping container into 15ft containers for sale starts with us cutting the container down to size. From each 40ft container we get two new 15ft containers, plus one
10ft
. Next we have to fabricate new doors and
new end walls
to replace the missing pieces on the new containers. This is where we can use our expertise on what works best for storage containers and make new doors to fit the individual needs of our customers.
Four door types available
We categorise our doors into four types, each with their own merits depending upon what is best for your individual requirements.
S1 door type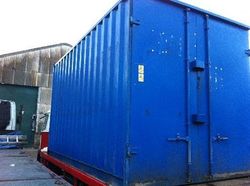 S1 doors
are made from flat steel panels, with a single locking arm that can be covered by a lockable box guard. These doors are recommended for frequent use and general purpose storage, as they are light and less unwieldy to use than shipping container doors, therefore are a popular choice with schools and clubs.
For additional protection we can add a
compressed door seal
S2 door type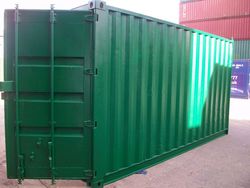 S2 doors
are the original shipping container doors left in place, and are the preferred choice with the construction industry. These doors are made from corrugated steel which is thicker and heavier than our specially made storage doors. They also contain a rubber seal for the ultimate barrier against water creeping in.
S3 door type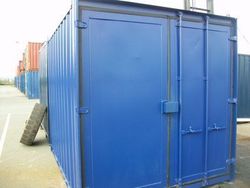 S3 doors
combine the benefits of S1 and S2 and are only available from Containers Direct - lighter storage container doors, with the addition of the rubber seal. We highly recommend this seal for the storage of items vulnerable to moisture damage, such as furniture and paperwork.
S4 door type -Roller shutter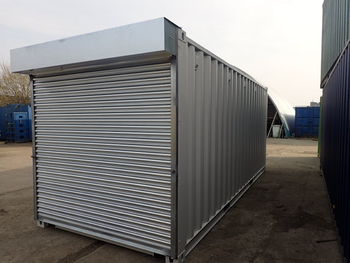 The
roller shutter
can be operated manually or electrically, made from galvanised steel and is padlockable on both ends. These doors are 8ft wide, so can be used to replace the standard container end door, or repositioned to the long side of the container. Different widths are available upon request.
Add exterior repaint and interior condensation proofing
At an additional cost all our 15ft containers for sale can be enhanced with exterior repainting and interior grafotherm treatment.
Repainting
not only gives your container an attractive finish, but will protect and extend its life.
Grafotherm
protects delicate items from moisture damage.
For other container additions, see our
Optional Extras
page.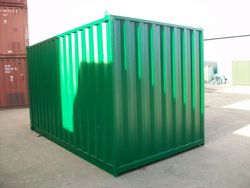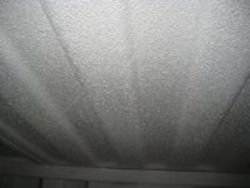 15FT CONTAINERS FOR SALE
Testimonial
"Happy with what we received. Nice people to deal with, very helpful and knowledgeable staff, great prices and the deliveries come when they say they will come. Can't get better than that."
From John Lee, Old Windsor Parish Council, who purchased a used container, repainted and with grafotherm treatment.