16ft Containers for Sale - New
Our new 16ft containers for sale are made up from original 20ft and 40ft shipping containers, by taking the larger containers and cutting them down to the required size. They can be cut to any size, many in our own workshops, to produce smaller great quality storage containers. Our 16ft containers, along with the 10ft container, are one of the most requested sizes of cut down containers. We use new containers to cut down from.
Once cut down and adapted for storage, these 16ft containers for sale no longer conform to shipping standards, but they do make the best storage containers on the market. Shipping containers are chosen to make new storage units as they cannot be beaten in terms of strength and durability. Made from
corten steel
, and with heavy weight bearing floors, they will give you years of secure, watertight storage, as corten also has rust repellent properties.
Choosing doors for storage containers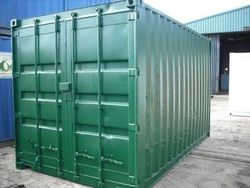 Another great advantage of using shipping containers to make our 16ft containers for sale is that during the process of adapting these containers, we are able to fit a range of new doors to give our customers more choice than the standard doors fitted on shipping containers. Some of our customers prefer a storage container with
original S2 doors
, corrugated, and rubber sealed to increase watertightness. However, the down side to keeping these doors on a storage container is that they can be quite cumbersome to use - generally considered to be more suited to building sites rather than lighter storage for organisations such as clubs and schools and domestic use.
Alternative door types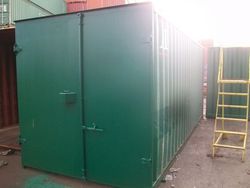 As many of our 16ft containers for sale are bought by these groups, there are two alternative door types that can be fitted to cut down containers. This
16ft S1 shipping container
has been fitted with a slimmer, flat panel door which is much easier to open and close. We offer a
compressed door seal
for this type, as an optional extra.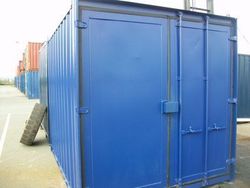 As a third option to give you the best of both door types, flat panel doors with double locking bars and a rubber seal are available. We call these
S3 doors
Roller shutter doors - S4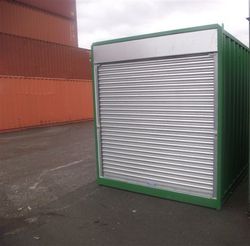 As an alternative to traditionally opening doors, we can fit a
roller shutter door
- either to replace the end door, or as an additional side entry. Made from galvanised steel, with padlocks both ends, these doors are as secure as any other choice. They can be operated either manually or electrically.
Side doors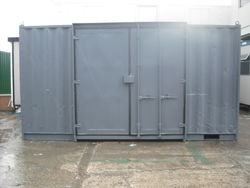 You will notice some containers have the doors moved to the longside of the container - known as
'side door containers'
. This makes for convenient access to the container and more options for positioning it on site.
Making the most of your storage container
Once you've decided which doors are most suitable for your needs, we have a number accessories and treatments to choose from, that can improve the functionality of your container: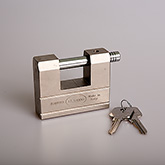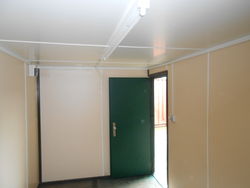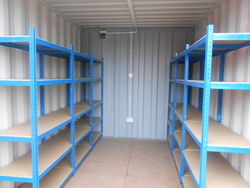 Testimonial
"The transport company went beyond all expectations very pleased with every aspect of my purchase thanks to everybody involved in the deal."

From Peter Brown at Classic Motorcycle Services, who purchased a 16ft used container.