20FT SEA CONTAINER

Containers Direct sell both new and second hand sea containers, suitable for shipping cargo abroad. Usually known a shipping container, the 20ft sea containers conforms to ISO* standards (*International Organisation for Standardisation) which regulates both the size and design of the container. These regulations developed after the Second World War to support a huge increase in international trade by reducing transport costs and maximising efficiency.
Specifications of an ISO 20ft sea container


Structure: Galvanised steel structure, with marine ply flooring, steel lockable doors at the front end


Length: 20'


Height: 8' 6'' Width: 8'


Cubic capacity: 1160cu'


Maximum gross weight: 24,000kg


The importance of the CSC plate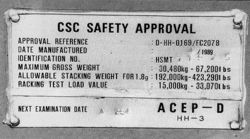 Before shipping, a container has to be certified as suitable by having a valid safety approved CSC Plate - a bit like an MOT for a car! Therefore it's essential to check first that any container purchased for shipping purposes has this and it's still in date!
Choose a high cube for a little extra space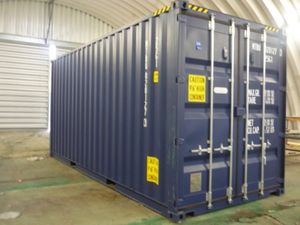 Although the standard height of a 20ft sead container is 8'6'' (originally made to fit through the majority of railway tunnels!),
high cube
containers of 9'6'' are also available to buy. These days, with better road access, getting stuck in railway tunnels is not such a big consideration, and the height of a container does not affect its capacity for stacking with other ISO containers.
Used or Once-Used
We stock used and once-used 20ft sea containers. To view our wide range of stock, see our
20ft-30ft
products pages.