COLLAPSIBLE STORE
The collapsible store has opened up the possibilities of keeping a full size storage unit in places previously labelled as unsuitable. Since the arrival of collapsible stores, an unwieldy hiab vehicle is no longer necessary to dispatch a storage container to our customers, so wherever you need your storage container to go, we can get it there! All you have to do is bolt the parts together, which takes around an hour, and there you have your
collapsible store
.
Relocate with ease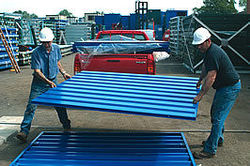 Moving your collapsible store is no problem either. It can be unbolted to fold flat again for easy removal to a new spot, making it the perfect product for frequent moves. No other store can give you the same freedom of mobility.
Link units together for more storage space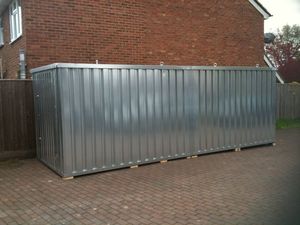 In addition to being mobile, this product is also modular. This means it can be used in conjunction with any other collapsible store from our range to create a larger storage area. All you need is a linking kit to
join separate units together
and expand your storage space. These are available to purchase at a modest £36. It is even possible to combine stores of different sizes, as all collapsible stores are a uniform width and height, only the length will differ. At times when the extra space is no longer required it is a straight forward job to unlink the store, fold it down and keep it safe until needed again.
The collapsible chemical store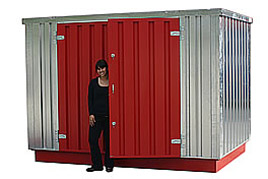 The collapsible store is multifunctional - it is suitable for domestic storage as well as industrial, and there is also a specialist
chemical store
from the collapsible range that is made specifically for the storage of chemicals and other hazardous substances. Fitted with an anti slip floor, sumped base and suspended floor grating to drain leaks, it maintains all the usual features of the collapsible store - a galvanised steel body, a guttered roof to keep rainwater away and high security dual locks.
Extras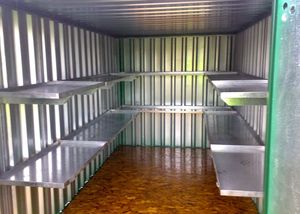 Add on features are available for all collapsible stores from our extras department. These include:


Snap in shelving


Levelling feet


Lifting lugs


Ramp


Repainting


Three lengths to choose from
Please state which size you require when ordering this product - 2m, 3m or 4m.
| Container Type | Length | Width | Height |
| --- | --- | --- | --- |
| 2m | 2.1m | 2.1m | 2.1m |
| 3m | 3.1m | 2.1m | 2.1m |
| 4m | 4.1m | 2.1m | 2.1m |