CONTAINERS FOR SITES
Construction sites are the biggest single group of users of storage containers, as they make the perfect temporary storage unit for building materials and equipment that has to be kept safe from tampering, theft and bad weather. Containers Direct have many suitable containers for sites, the most popular being the used shipping container. Our
storage grade
shipping containers are great value for money and suitable for the storage of plant machinery, tools, building materials and commercial stock.
Unbeatable strength!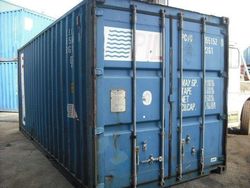 Shipping containers are very robust, as they are built to carry extremely heavy loads and withstand long journeys overseas with other containers stacked up on top. For this reason they are made from
corten steel
, which is not only very tough but also contains rust inhibitors. Over their lifetime containers are subjected to a battering from rain and seawater, which can cause corrosion and lead to holes appearing in the container leading to damage to stock inside. Corten steel provides a protective coating against this process and extends the life of the container. Our containers for sites come with a year's watertight warranty.
Unbeatable security!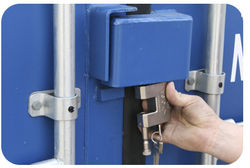 The steel construction of shipping containers also makes them highly secure, and very difficult to break into - an essential requirement of containers for sites. The doors are solid and heavy and we can add a lockbox over the padlock to increase security levels.
Unbeatable prices!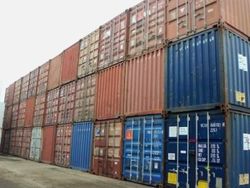 For these reasons, once shipping containers have 'retired' from shipping, they make superb storage containers for sites. Because they are used, we can offer them at a great price, but they are still perfectly functional as a site store. Any wear and tear is superficial, such as minor dents, scrapes and surface rusting - a new coat of rubberised container paint is all it takes to improve the appearance and extend the life of the container.
Sizes from10ft upwards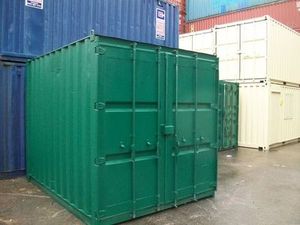 Containers for sites come in standard sizes of
20ft
and 40ft long, but our conversion service at Containers Direct means we can also offer 'odd sized' containers to fit individual site requirements. Our
10ft containers
for smaller loads are always in demand.