FLAT PACK STORES
Flat pack stores cannot be beaten in terms of flexibility. They can be delivered and set up virtually anywhere. Low bridges, overhead obstructions and confined spaces are no longer a barrier to using a storage container when you chose flat pack stores. They are transported as a compact product which can be manually lifted and carried to hard to reach places, without the use of a crane. This portability also makes them a wise choice for short term use in any single location.
Combining the quality of a storage container with the convenience of a flat pack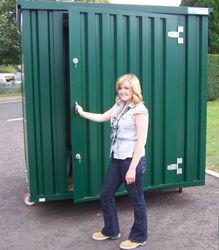 Although each panel is light enough to be handled manually, flat pack stores are still a product you can have every confidence in. They are manufactured from the same materials as other storage grade containers - galvanised steel with dual locks to protect from thieves and our great British weather. They come in three different sizes - 2m, 3m and 4m. For detailed specifications on flat pack stores, please visit our
technical information
web page, where you will also find details of optional extras that can be fitted, such as forklift feet and shelf brackets.
Flat pack stores for chemicals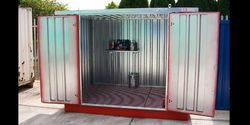 These are the same basic model as flat pack units for general storage, but have been specially adapted to fit Heath and Safety regulations for the safe storage of chemicals and hazardous substances. Take a look at one of our latest
chemical stores
to arrive if you think you may require this type of store.
And flat pack offices too!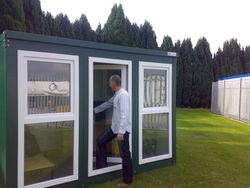 A third type of flat pack product is also available - the
cabin office
. With the addition of double glazed windows, insulation, electrics and the option of a roof, a flat pack store is transformed into a flexible, mobile, low cost work place.