SHIPPING CONTAINERS IN NEWPORT
Good news for customers looking to buy shipping containers in Newport and South Wales! They can now be purchased through Containers Direct at the same low costs as other parts of the UK. Since we opened our container supplier depot in Newport, we've been able to dispatch all types of containers using locally based transport - which means greatly reduced costs passed on to our Welsh customers.
Finding the right container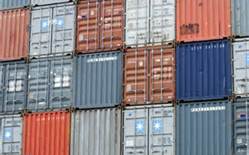 As we have both a large supplier depot in Newport and our own container conversion workshops at Containers Direct, the choice of containers we offer is unbeatable. So whether you're looking for a
container for export
or a
container for storage
, from the very smallest 5ft models and upwards to the largest size manufactured of 45ft, you'll find it here. We hold both new and second hand containers in Newport, to suit all budgets.
Shipping or storage?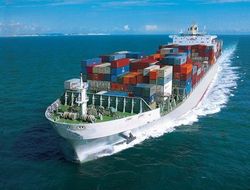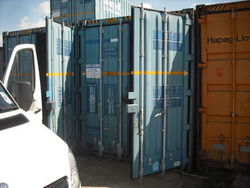 If you are purchasing a shipping container in Newport for export, our trained staff are able to give guidance on containers suitable for shipping and the associated container export regulations, to help you avoid costly mistakes. With containers for storage, the choice is much wider - the only essential requirements are that the container is free from structural damage, watertight and is fit for the job you need it to do!
To ensure a problem free purchase most of the shipping containers we supply in Newport, from the economy grade to the brand new carry the Containers Direct 12 month watertight guarantee - for full details see Clause 6 of our
Terms and Conditions
.
Using our container conversion service
If you can't find the exact container you require amongst our online stock displays, we can make it for you in our conversion workshops. So whether it's an odd size, particular door requirements, or even a specialist project, we can work with your specifications. The container featured here was adapted to include roller shutter doors.

Our other shipping container products in Newport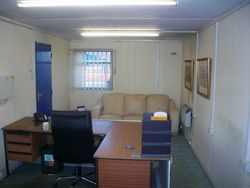 Shipping containers also make excellent anti vandal
site offices
, canteens, welfare cabins, toilet blocks and business units. These products can either be specially adapted from shipping containers, or purpose built. We have plenty of site offices and units ready to be despatched, which include a number of different features, such work space, toilets, changing area and kitchenette. Or we can adapt any existing cabin to include features to your personal requirements.
See our
'Offices and Canteens'
stock displays for a wide range of quality units at affordable prices and cheap delivery rates to Newport and the surrounding region.
Shipping Containers in Newport