SITE OFFICE
A site office is an inexpensive and flexible way to provide onsite accommodation that caters for the day to day needs of a working environment - anything from a basic working space to all inclusive hygiene and catering facilities.
Containers Direct have an extensive range of site office accommodation guaranteed to match your needs. Not only do we hold a variety of ready to buy offices, but we can also adapt any of these to unique customer specifications in our
Conversion Department
.
The advantages of anti vandal offices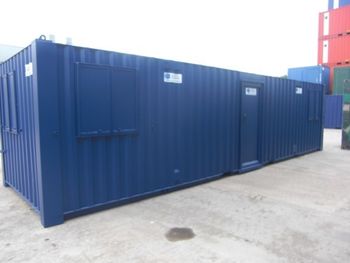 A site office can be made of either steel, known as an anti vandal office, or textured timber, usually referred to as a jack leg office. Containers Direct sell anti vandal offices - these will provide years of secure and comfortable use, as they are waterproof and insulated and fitted with top quality locking systems. The anti vandal site office has an additional security feature of steel shutters over the windows. As an example, have a look at this
32ft steel office
- it looks tough and impenetrable from the outside, yet inside it's a well equipped and comfortable working environment.
And well equipped and comfortable too!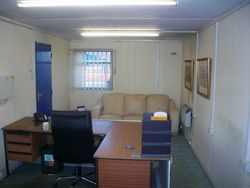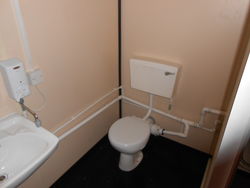 The
site office
can provide you with every facility you need from a portable accomodation unit, including work space, toilets, kitchen facilities and electrical installations. They can be either open plan, or partitioned. The walls are insulated for comfort during the winter months. For your specific requirements get in touch with our conversion department who will be able to assist with the planning and facilitating of your office interior.
Space saving offices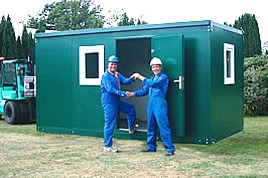 As size isn't everything, we also have a number of smaller site offices, and our self assembly offices are ideal for even the most restricted of spaces. These are great for personal use, as they fit into most gardens and being a flat pack product, can be taken down and relocated with ease. See our section on
flat pack offices
for more details.