SITE OFFICES
Containers Direct specialise in steel constructed site offices rather than the usual timber options. We prefer steel site offices over their timber counterparts as they are more robust and designed to be truly anti-vandal, including lockable steel shutters over windows and
steel personnel doors
(complete with 10 point locking system) as standard for all units. When looking to buy site offices, the best starting point is whether to choose new or second hand.
Buying second hand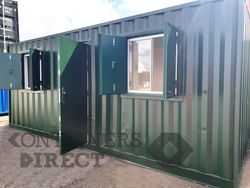 As John Maynard Keynes pointed out "in the long term, we're all dead" so for many people used site offices will more than adequately do the job! We're able to recycle second hand shipping containers and re-purpose them as site offices, particularly useful on building sites or as a temporary solution to office space.
We take a
used shipping container
and cut down to size, blank off the end wall using new corrugated steel, and add our standard personnel doors and windows with shutters. After that, we fully
melamine line and insulate
the container, and overlay with
vinyl
the existing floor.
Electrics
can also be added to your unit including lights, double sockets and heaters, and we finish off your site office with a full external
repaint
in a choice of colours to make the perfect office solution at a fraction of the price.
New site offices from 'once-used' containers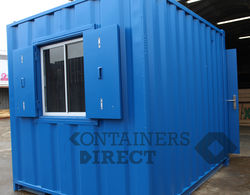 Buying converted site offices from
once-used
shipping containers represents great value for money in the long term. These units are deliberately built for the UK storage market, so are essentially new, giving at least 15 years of trouble free use.
We convert our once-used units in our
modification workshop
, using the same techniques for used units, but the external appearance will be significantly better, more suited to a permanent site office solution, or one which will be moved from site to site over a number of years. If treated properly, your once-used site office container will look like new for a long may years.
New site offices from scratch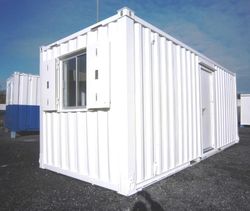 For customers looking for truly bespoke site offices, whether as a unique meeting room, showroom or office space, we offer more than just picking up a prefabricated unit off the shelf. Our
new build fabrication depot
allows us to build to bespoke lengths and widths to accommodate your office design, often creating wider spaces than the standard 8ft container.
Our
new build containers
are all made from corrugated steel, and feature the same high quality doors, windows and internal fit out as standard. However, as we're building from scratch, we are able to add extra design elements to your container to create the exact office space that you're looking for. For example, take a look at a new build container constructed for
Parkstone Bay Marina
. Although the interior fit out was done by our client, the shell of the unit including the apertures for the windows to be retrofitted, and the lining, were done by us prior to delivery.
Other modification options
There are a number of possibilities that can be fitted to produce the site office you need, such as:
1.
'Tilt and Turn' windows
2.
Patio Doors and Bi-Folding Doors
3.
Internal partitions
to divide the internal space
4.
Kitchen units
5. Toilets and wash basins
6.
Cladding
if you're looking to hide your unit in plain sight.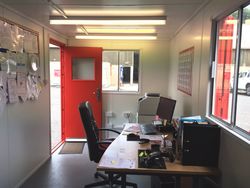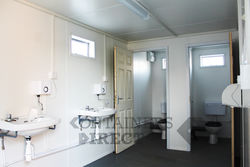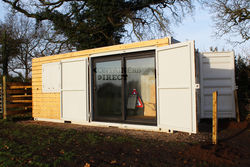 For more inspiration, take a look at some of our favourite
Office and Classroom Case Studies
.
Self assembly offices
For further savings, especially if access is restricted,
self assembly offices
are available. We are the UK's leading retailer of flat pack office units, perfect for smaller sites, where space and access is limited. These also make excellent garden offices for those who work from home but need a quiet space to concentrate away from the usual distractions! These units come with a standard window and door, insulated, and can also come with an electrics pack. There are plenty of upgrade options available however to turn the standard unit into something more bespoke such as full size window panels and full height glass door panels.