USED SHIPPING CONTAINERS FOR SALE
Used shipping containers for sale offer the best value steel units you can buy. All shipping containers begin life as vessel for shipping goods overseas, and for this purpose they need to be extremely hardy to withstand damage during transit (bearing in mind they are stacked up on top of one another!) and completely watertight. Therefore they are manufactured from corten steel, which is thick and contains rust retardant properties.
But international shipping standards are rigorous, so combined with the fact that here in the UK we have a surplus of shipping containers due to imports being higher than exports, many shipping containers are only used for a few journeys before being sold off cheaply as storage units. This is good news for the consumer looking for a great quality, low cost container for storage.
Choose used shipping containers for hard wearing, long lasting storage units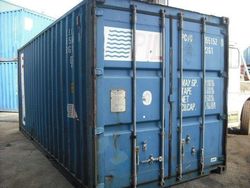 Containers Direct have various grades of quality of used shipping containers for sale, which we divide into two categories - quality used and economy grade. Quality used containers have minor cosmetic damage, such as minor dents or surface rusting. Economy grade containers have a little more cosmetic damage which can be resolved by respraying if the appearance of the container is of concern. We can repaint any container upon customer request in a wide range of colours.
For an example of quality used shipping containers for sale at Containers Direct, take a look at this
20ft model
, the most common size of shipping container available. This container makes an excellent dry, secure site store, but is also still certified and plated for shipping.
Check for the CSE plate for containers for shipping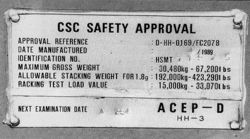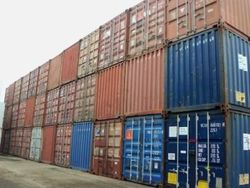 If you do require a container for shipping use, many of our used shipping containers are still certified and plated to ISO standards that enables them to be shipped, but please check before purchase that the container has this certificate. We currently have a batch of
quality used ISO shipping containers
at our supplier depot in Southampton, which are great for shipping or storage. We hold similar supplies at our other depots across the UK, which we use to give all our customers low cost delivery rates.
40ft containers and non standard sizes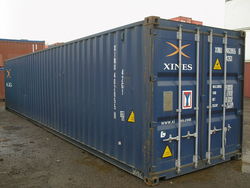 For sizes other than 20ft, we have standard
40ft used shipping containers for sale
, along with 'odd sizes' that have been
cut down
from 20ft and 40ft shipping containers to give our customers a wider scope of sizes to choose from. These containers are available with a choice of door types and other optional extras, including lining and insulating, condensation prevention treatments, lock box and shelving.
(Please note that cut down and modified containers will no longer be suitable for shipping)