15ft NEW SHIPPING CONTAINERS
Definition of a new shipping container
By 2000 China had become the largest manufacturer of ISO shipping containers in the world, and by 2007 China was producing 82% of the entire world supply of ISO shipping containers. With low labour costs, and China being the largest producer and recycler of steel in the world, it means that virtually all shipping containers purchased in the UK have originated from China. They are exported to our shores laden with cargo, which makes economical sense, and keeps cost down for all parties. This is why new shipping containers are referred to as 'One Trip Containers'. There may be some evidence of handling or surface scuffing, but other than that, the container should be as new.
15ft new containers
This is not a standard length for container manufacture. ISO containers are very much standardised to comply with world wide shipping trade regulations, therefore the vast majority of new containers are 20ft or 40ft long (and 8ft wide). But with the growing popularity of repurposing containers, for storage and conversions, there is a big demand for all sizes. We meet this demand by using the cut down process. To illustrate, we would make a 15ft new shipping container by taking a new 40ft model, and dividing it up into three pieces. This will produce two 15ft lengths and one 10ft. The new containers are then made whole into three complete units by adding new doors (or a new front wall for the unit with the original door in tact).
Please note cut down containers are not suitable for shipping, stacking or lifting when loaded. Please speak to a Sales Advisor if you need these conditions, where they may recommend a cut and shut container.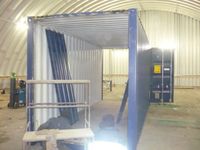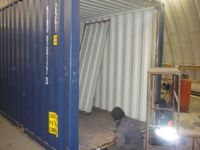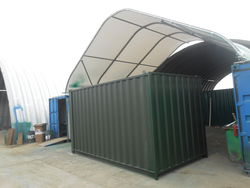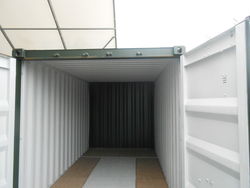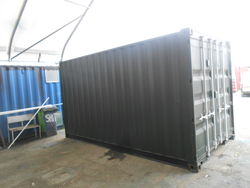 Door options
After cutting two lengths of 15ft, the shipping containers are completed with a choice of doors. At Containers Direct we offer four separate door types, each with it's own benefits for different uses.
S1 doors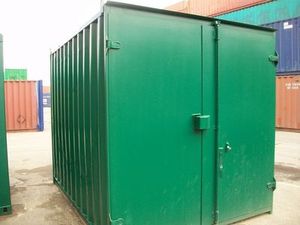 S1 doors
are secure, but not as heavy to manoeuvre as standard shipping container doors. Although they are made from thick steel, the panels are flat, instead of corrugated, to reduce bulk. These doors are great for storage containers in frequent use, and you don't need to be a tough guy to use them! They are secured with a single locking bar, to which you can add a padlock protected by a lockbox. As an optional extra (
£65 plus VAT
) we can add a
compressed door seal
as a barrier to water ingress.
Cost for 15ft new shipping container with S1 doors - £2195 plus VAT
S2 doors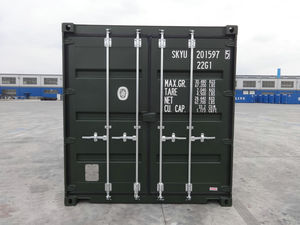 These are
original shipping container doors
, left in tact when the container is cut down to 15ft. Made from corrugated steel with a rubber seal, and multiple locking bars.
Cost of 15ft new shipping container with S2 doors - £2195 plus VAT
S3 doors
At Containers Direct we offer a unique third option
S3 doors
which combine the advantages of both types of door. We are lucky to have manufacturing facilities on site and have designed and manufactured a door which is both easy to use and is superior in quality. Although the appearance of S3 doors may differ slightly from container to container, they all share these characteristics: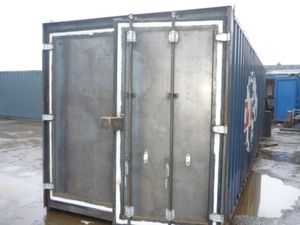 New/once-used


External rubber door seals


Waist high handles


Two locking arms on the right hand door only


Shoot bolts on the left hand door
Cost of 15ft new shipping container with S3 doors - £2370 plus VAT
S4 doors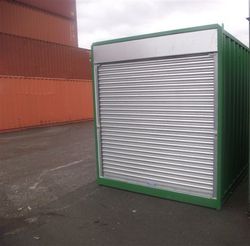 The
roller shutter
is a different type of door altogether, although still made from steel, very secure and can be padlocked on both sides. With two methods of operation to choose from, manual or electric, this door is often chosen for workshop conversions, or is available half length, for containers for catering.
Cost of 15ft new shipping container with manual roller shutter door - £2695 plus VAT

(Please enquire for cost of electric option)
S5 doors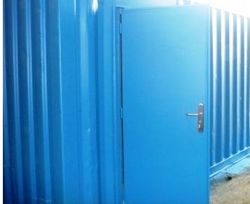 These are steel
personnel doors
, suitable for frequent pedestrian use in out of the container, incorporating multi deadlocks and offering high levels of security. Personnel doors are the preferred door type for our
portable site office units
, and other conversions, such as offices, classrooms, workshops and equipment stores.
Price per personnel door - £565 plus VAT
Side doors
Doors can also be positioned in the side of the container. Choose from S1, S3, S4 (roller shutter) and S5 (personnel door). We also supply
extra wide side doors
, and
multiple sets
where size allows. You can have a
side door
to replace the end door, or in addition to.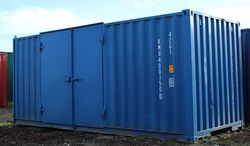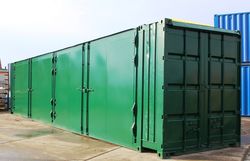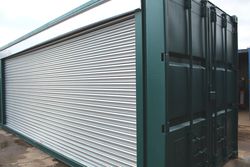 Optional extras for containers
We offer the following services and additions to tailor our containers to our customers' needs:
Repainting
Our 15ft new shipping containers come in standard blue and green colours. However, we can repaint your container exterior to any colour required from our extensive
RAL colour chart
.
Cost to repaint 15ft container - £170 plus VAT
Cost to repaint 15ft container, by masking door seals and locking gear (to retain 'new' appearance) - £270 plus VAT
Padlock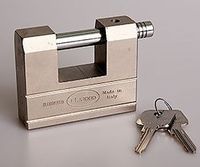 Add one of our specialist
Lock 2000 padlocks
, compatible for use with the lock box, for a discounted price of
£35 plus VAT
Lockbox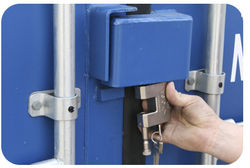 This steel
lockbox
protects the padlock from tampering - price
£55 plus VAT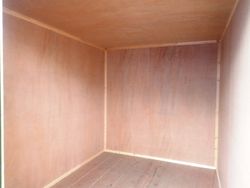 A ply lining combined with rockwool insulation will keep the container at a constant temperature and provide the most resistant measure against condensation.
Cost to line 15ft container - from £950 plus VAT
Cladding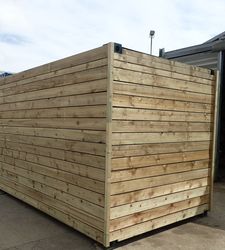 "Disguise" your container with wood cladding. It protects, looks good, and can help with planning permission. Choose from three standard types of wood, or enquire about bespoke finishes. For more details read our page
Cladded Shipping Containers
Cost to clad a 15ft container start from £980 plus VAT
Shelving Racks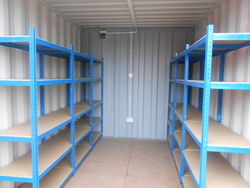 Make best use of all the available space, and keep things tidy and well organised with
shelving
.
Cost per bay (1m/3ft wide) - £60 plus VAT fitted, OR £45 plus VAT self fitted
Electrics
Choose from two
electrical package
options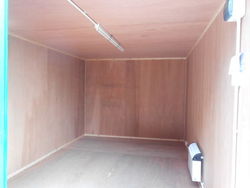 Option 1:
One external hook up, a consumer unit, light switch, two 5ft strip lights with diffuser, a double socket - from
£330 plus VAT
Option 2:
One external hook up, a consumer unit, light switch, two 5ft strip lights with diffuser, two double sockets and wall heater - from
£420 plus VAT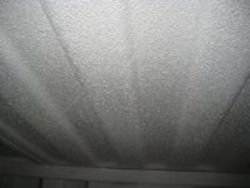 An anti condensation treatment to repel moisture and protect contents from moisture damage
cost to treat 15ft container - £155 plus VAT
Ramps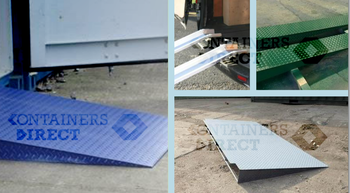 We offer a variety of
ramps for containers
- car ramps, heavy duty ramps, lightweight ramps, hinged ramps and bespoke builds. A range of sizes are also available.
Cost from £205 plus VAT
Testimonial
"You have supplied a 1st class product. Your customer service was extremely helpful, you kept us fully informed during the whole process."
From Tony Davies, Healthy Lifestyle Centre