15ft NEW SIDE DOOR CONTAINERS
New shipping containers in the UK are imported from China, the world's biggest manufacturer of steel shipping containers, and arrive at our ports loaded with cargo. This makes economical sense, and keeps the resale price down. Therefore, technically all new shipping containers are 'once used', and may show signs of handling, but should not be damaged or structurally affected in any way. Once used containers should last a good 20 years or more
Making a new 15ft container
Although we don't manufacture containers in the UK, in order to produce a 15ft sized container, we have to cut up larger standard sized containers (20ft and 40ft) when they arrive on our shores. For more information on this process, see our article on
Cut Down Containers
.
For a lighter budget we can also make
side door containers
from second hand 20ft and 40ft containers.
Doors in the side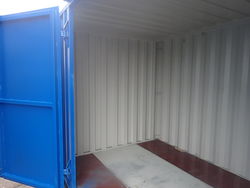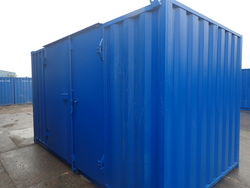 Side doors are useful alternative to the traditional shipping container end door. They give more flexibility over where to site the container - in some locations it will be more convenient to have the longside facing our, instead of the narrow end. Choose between a side door as an alternative to an end door, or in addition to. Our side doors are still a standard 8ft width, so on a 15ft container, we can be flexible over positioning the doors.
Work in Progress - putting the side doors in
First we cut the aperture for the doors, into the side of the container. After this we create a frame for the door, and weld this to the aperture. We are then ready to fit the door, which will require repainting.
If you have chosen to have the door simply repositioned, we need to create and weld a
new end piece
for the container, where we have taken the door off. If you have chosen your side door as an extra, we simply leave the original door in tact. The pictures below illustrate the main steps in this process.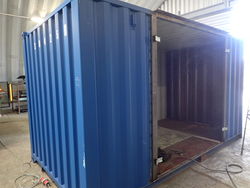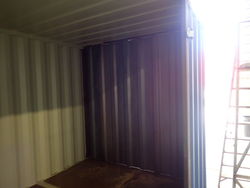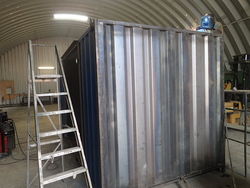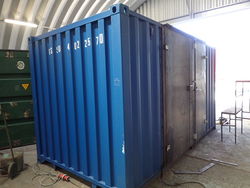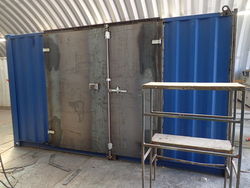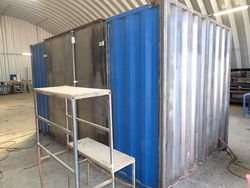 15ft side door options
When fitting doors in the side we offer a choice of three styles:
S1 Side door containers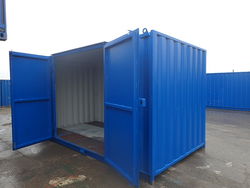 As featured above,
S1 side doors
are easy to use as they are constructed from flat steel panels, which reduces the bulk and makes them user friendly for all. The locking system is very secure -a steel bar, protected by a steel lockbox. Quality
container padlocks
then secure the lockbox.
Cost of new 15ft container with S1 side door only - £2450 plus VAT
(Add compressed door seal)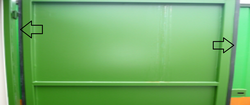 An option for S1 doors - these are attached to the inside of the container door and compress to form a
watertight seal
when the door is closed.
Cost - £65 plus VAT
S3 Side door containers
At Containers Direct we offer a unique third option which combines the advantages of both types of door. We are lucky to have manufacturing facilities on site and have designed and manufactured a door which is both easy to use and is superior in quality. Although the appearance of S3 doors may differ slightly from container to container, they all share these characteristics: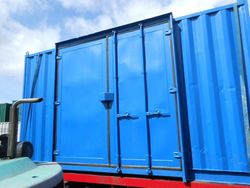 New/once-used


External rubber door seals


Waist high handles


Two locking arms on the right hand door only


Shoot bolts on the left hand door
S3 side doors
Cost of new 15ft container with S3 side door only -
£2625 plus VAT
S4 Side door containers
Galvanised steel, padlockable on both ends, 8ft wide
roller shutter doors
make a great alternative, or addition, to standard storage doors. They come in either manual or electrical options.
Cost of new 15ft container with S4 manual side door only -
£2920 plus VAT

(Please enquire for cost of electric option)
S5 side door containers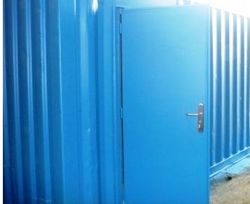 These are steel
personnel doors
, suitable for frequent pedestrian use in out of the container, incorporating multi deadlocks and offering high levels of security. Personnel doors are the preferred door type for our
portable site office units
, and other conversions, such as offices, classrooms, workshops and equipment stores.
Price per personnel door - £565 plus VAT
Additional doors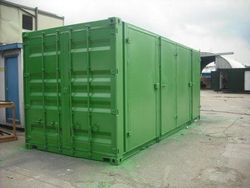 These can be fitted in the opposite side of the container, or alternatively, on either end of the container. Choose from S1, S3 or S4 container door types. For end doors we can use the original shipping container door (S2), as illustrated in the picture, or use any other door type - the choice is yours!
Prices are
£550
for an S1 or S2 additional door and
£725
for an S3 door.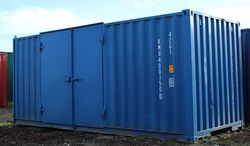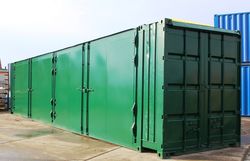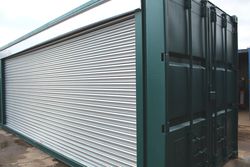 Optional extras for containers
We offer a range of accessories and services to fit our customers' individual requirements:
Repainting
Our 15ft new shipping containers come in standard blue and green colours. However, we can repaint your container exterior to any colour required from our extensive
RAL colour chart
.
Cost to repaint 15ft container - £170 plus VAT
Cost to repaint 15ft container, by masking door seals and locking gear (to retain 'new' appearance) - £270 plus VAT
Padlock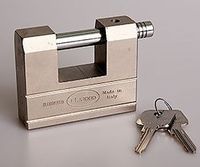 Add one of our specialist
Lock 2000 padlocks
, compatible for use with the lock box, for a discounted price of
£35 plus VAT
Lockbox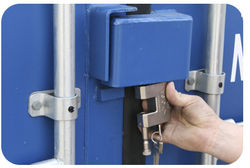 This steel
lockbox
protects the padlock from tampering - price
£55 plus VAT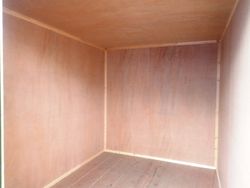 A ply lining combined with rockwool insulation will keep the container at a constant temperature and provide the most resistant measure against condensation.
Cost to line 15ft container - from £950 plus VAT
Cladding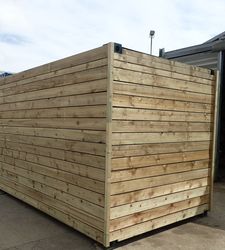 "Disguise" your container with wood cladding. It protects, looks good, and can help with planning permission. Choose from three standard types of wood, or enquire about bespoke finishes. For more details read our page
Cladded Shipping Containers
Cost to clad a 15ft container start from £980 plus VAT
Shelving Racks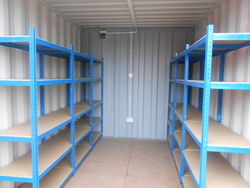 Make best use of all the available space, and keep things tidy and well organised with
shelving
.
Cost per bay (1m/3ft wide) - £60 plus VAT fitted, OR £45 plus VAT self fitted
Electrics
Choose from two
electrical package
options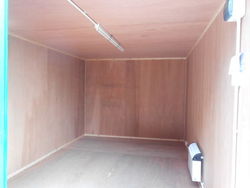 Option 1:
One external hook up, a consumer unit, light switch, two 5ft strip lights with diffuser, a double socket - from
£330 plus VAT
Option 2:
One external hook up, a consumer unit, light switch, two 5ft strip lights with diffuser, two double sockets and wall heater - from
£420 plus VAT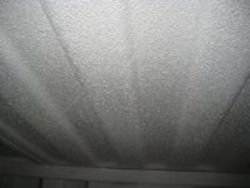 An anti condensation treatment to repel moisture and protect contents from moisture damage
cost to treat 15ft container - £155 plus VAT
Ramps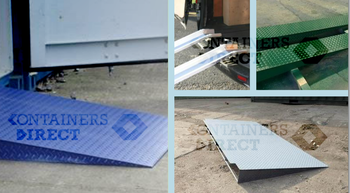 We offer a variety of
ramps for containers
- car ramps, heavy duty ramps, lightweight ramps, hinged ramps and bespoke builds. A range of sizes are also available.
Cost from £205 plus VAT
Testimonial
Gingerbread Holding Ltd requested a 15ft container with no end doors, S1 side doors, and ply lining. Our client said:
"The process of buying a container went extremely well, the service from start to finish was of a high quality and it was a pleasure doing business with Containers Direct."
Axe Skip Hire Ltd purchased two containers and gave us this review:
"Very helpful, talked through the requirements and advised on our needs to come up with a good solution. We had two containers, communication was very good, delivery and waiting time as they said. Would highly recommend and will be using again in the future."