20ft Lined Containers
Lining 20ft shipping containers has become a common practice for a number of reasons:
Temperature control


Condensation prevention


Noise reduction


A professional finish
These reasons for choosing lined containers apply especially for office and canteen conversions, but the first two are of particular importance for general storage containers too. Combined with insulating materials packed into the lining framework, the extremes of temperature normally associated with steel containers is stabilised and damaging condensation eliminated.
Lining options for 20ft container
We offer three options of lining - all of which come with standard 100mm rockwool insulating material beneath.
9mm redwood finish



Melamine
With all lining types you can opt to have the doors insulated as well as the doors and ceiling. For other grades of ply, please enquire.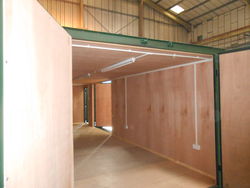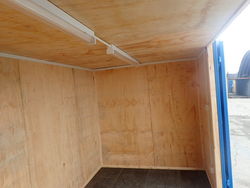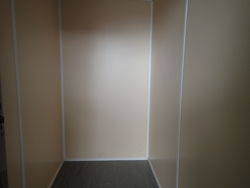 The process of lining containers
Ply
We use plywood to create a timber frame, pack this with 100mm rockwool (a highly effective insulating material), and enclose this with timber boards, sealed off with beading around the edges. To maintain the watertightness of the container, there is no drilling involved.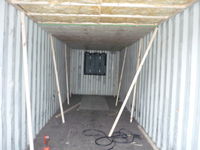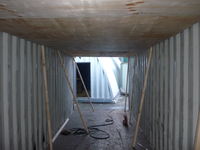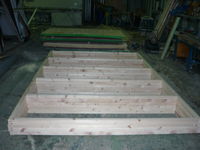 Melamine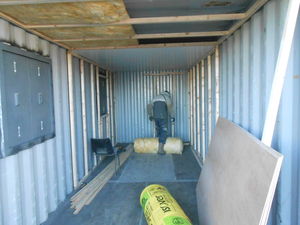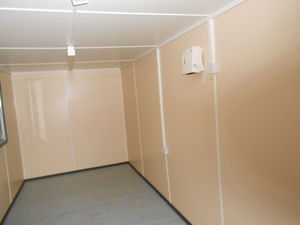 The container is insulated with rockwool, to retain heat, and a timber frame fitted to hold melamine panels, which provide a hygienic washable surface. The floor is lined with ply and covered with lino, and all joins are sealed with plastic coving, including skirting.
Prices for our 20ft lined containers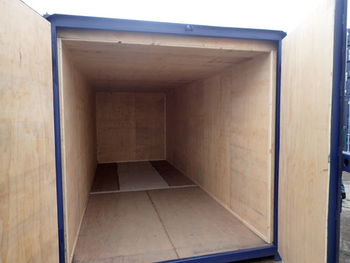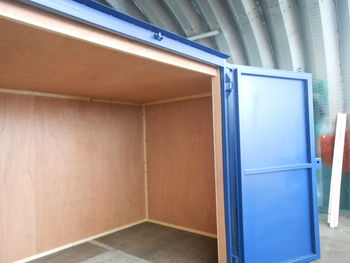 Ply lining - used container:
Excluding doors
: 9mm redwood
from £2510 plus VAT
12mm redwood
from £2595 plus VAT
Including doors
: 9mm redwood
from £2615 plus VAT
12mm redwood
from £2695 plus VAT
Ply lining - new container:
Excluding doors:
9mm redwood
from £3245 plus VAT
12mm redwood
from £3335 plus VAT
Including doors
: 9mm redwood
from £3355 plus VAT
12mm redwood
from £3435 plus VAT
For high cube containers (9ft 6in high) please add 20% to standard lining costs.
Testimonial
Hawthorn Housing Co-op in Glasgow, ordered a 20ft ply lined and insulated container. They said:

"Excellent service and a great product. Installation of container was extremely well handled as well."

Llanfair Caereinion Town Council also chose to have their 20ft container ply lined:

"Professional, quick and efficient service!"