20ft SHIPPING CONTAINER FOR SALE
The
20ft shipping container
is one of the most well sold products available from Containers Direct. It's economical, hard-wearing and can be used for storage as well as shipping. Also known as an ISO shipping container, it is the best way to ship goods overseas as these containers are transported in a stack to maximise space and keep costs down. For this reason, ISO shipping containers come in uniform lengths of 20ft and 40ft, and 8ft in width.
Unbeatable quality and value
Shipping containers are basically a metal box, made from
Corten steel
which makes them waterproof, extremely hard-wearing, very difficult to damage or break into and superb value for money. The price of shipping containers has been driven down by the decline of the manufacturing industry in the UK, meaning more containers arrive in the country carrying imported goods than are needed to leave the UK carrying exported goods. This means we have a good supply for resale, and we can offer the 20ft shipping container for sale at a great price too.
New or used shipping container?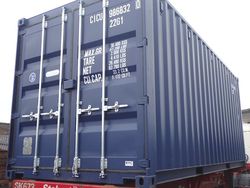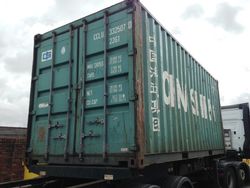 This can be a tough decision, one that will also depend on your budget. As a guide, a
used 20ft shipping container
for sale will be great value for money in terms of being structurally sound. With a long life span where it will remain wind and watertight and problem free, it can be
repainted
to cover any cosmetic damage and wear and tear. Used containers can vary in terms of cosmetic appearance, which is why some people prefer buy new - although technically "new" shipping containers in the UK are more accurately described as
"once used"
, as they have had one sea going trip to transport them here, so they are not guaranteed to be in perfect cosmetic condition either.
If you are still unsure which is best for you, go to our descriptive new and used container pages.
Modified 20ft shipping containers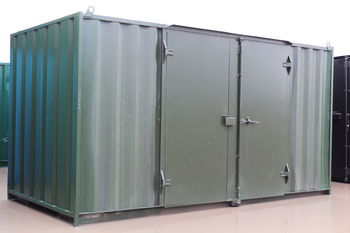 Many of these shipping containers for resale are put to use as a storage container, where they are either sold as they come, or modified to produce storage containers of different sizes. For example, a 20ft shipping container can be made into two smaller 10ft sized containers. This procedure involves making new doors and gives the customer the option of having these fitted in the long side of the container if required - or you can have both if you need extra doors! Find out more about
20ft containers with side doors
.
In addition to a range of sizes, we also modify containers to give you a choice of door types, adapted to suit purpose. For instance, our
S1 doors
are designed with frequent use in mind, as they are a lot less unwieldy than original shipping container doors, while
S5 doors
are suitable for frequent pedestrian entry, essential for containers converted into site offices etc.
See our full range of door options, and find out more in our news article
A Guide to Choosing Shipping Container Doors
Free with 20ft containers
Lockbox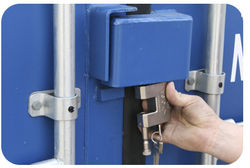 All doors on our 20ft FG containers are fitted with a
lockbox
, at no extra cost. The lockbox fits snugly around the container lock to prevent unauthorised access.
Modifications list
We offer a full range to enhance your 20ft container, whether it's for practical purposes, or to make it look good, you'll find it here. If there's anything else you feel your container or conversion product needs, then please enquire.
Padlock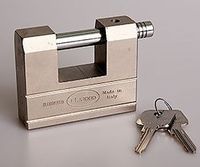 Add one of our specialist
Lock 2000 padlocks
, compatible for use with the lock box, for a discounted price of
£35 plus VAT
Have your container repainted on the outside to your own choice of colour, in rubberised, protective container paint.
Cost to repaint 20ft container - £195 plus VAT
Please note for very light or bright paint options (ie white, yellow, red, orange) there is a supplementary charge of 75% over standard repainting rates
Compressed door seals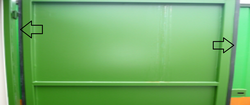 An option for S1 doors - these are attached to the inside of the container door and compress to form a
watertight seal
when the door is closed.
Cost - £65 plus VAT
Interior repainting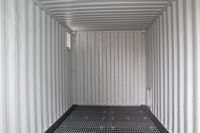 An
interior repaint
can instantly improve the appearance of used containers.
Cost - £190 plus VAT
Ply Lining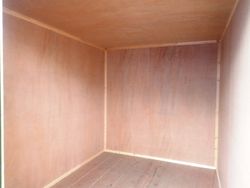 A
ply lining
combined with rockwool insulation will keep the container at a constant temperature and provide the most resistant measure against condensation.
Cost to line 20ft container - from £1050 plus VAT
Cladding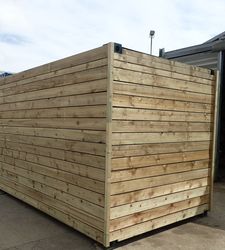 "Disguise" your container with wood cladding. It protects, looks good, and can help with planning permission. Choose from three standard types of wood, or enquire about bespoke finishes. For more details read our page
Cladded Shipping Containers
Cost to clad a 20ft container start from £1265 plus VAT
Shelving Racks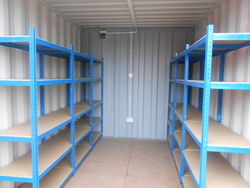 Make best use of all the available space, and keep things tidy and well organised with
shelving
.
Cost per bay (1m/3ft wide) - £60 plus VAT fitted, OR £45 plus VAT self fitted
Electrics
Choose from two
electrical package
options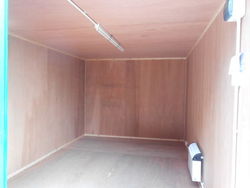 Option 1:
One external hook up, a consumer unit, light switch, 2 x 5ft strip light with diffuser, a double socket - from
£350 plus VAT
Option 2:
One external hook up, a consumer unit, a light switch, two 5ft strip lights with diffusers, two double sockets and wall heater - from
£450 plus VAT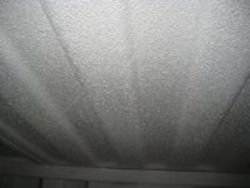 An anti condensation treatment to repel moisture and protect contents from moisture damage
Cost to treat 20ft container - £190 plus VAT
Ramps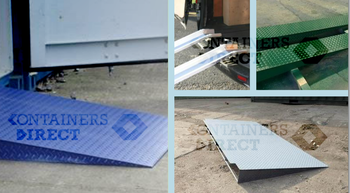 ]We offer a variety of
ramps for containers
- car ramps. heavy duty ramps, lightweight ramps, hinged ramps and bespoke builds. A range of sizes are also available.
Cost from £205 plus VAT
Testimonial
Gary Simpson from Knowles Uk Ltd purchased a 20ft container, treated with Grafotherm and repainted green. He was very impressed with our customer service!

"It all came across as very efficient and customer centric. Very good service, great product. Well managed from initial contact, right through to an excellent delivery driver. Definitely use these guys again."