40ft New Shipping Containers
40ft shipping containers are the largest standard size manufactured from new. With reasonable usage they can be expected to last up to 30 years, as they are built to very high standards of strength and durability, to cope with the stresses of heavy loads and handling on overseas voyages. Designed to be weatherproof (made from corten steel), and stacked up to eight containers high, whether you are looking for a container for export or storage, a new shipping container will not let you down.
ISO certification - the CSC plate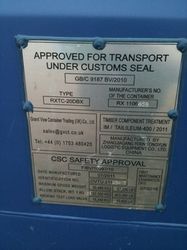 All shipping containers are built in accordance with ISO regulations, to maintain safety and compatibility for shipping. New containers are issued with a CSC plate to certifying them as fit for export journeys. This certification lasts for five years from the date of production, and will need maintaining for further export after this date. However, if you are using the container for storage or a conversion project, this is not necessary.
Definition of a new shipping container in the UK
Due to high manufacturing costs, new build shipping containers are no longer manufactured in the UK, therefore the domestic container industry defines a new shipping container as a 'one trip container'. The one trip container is built overseas and shipped to the UK loaded with cargo, to pay for the transportation costs. This brings the cost of a new container down for the buyer, so it is normal for there to be some cosmetic signs of handling present, but this will not effect the structure and performance of the container in anyway.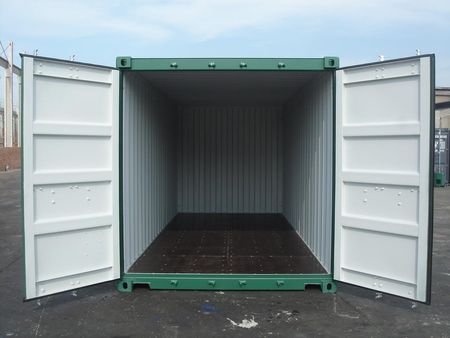 New 40ft containers available from Containers Direct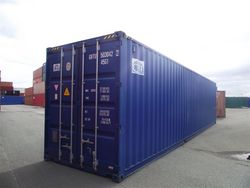 We hold stocks of these, ready for immediate dispatch in key strategic locations nationwide, which ensures a cost effective and speedy delivery for our customers, wherever they live. Our major supplier depots are located in:
Birmingham, Bristol, Burton upon Trent, Glasgow, Felixstowe, Leeds, Liverpool, London, Manchester and Southampton
New 40ft shipping containers for storage
Containers Direct offer a range of services and accessories to customise your container for its usage. Containers used for storage are not bound by ISO regulation, so there are a number of options available to make storing your goods hassle free . Please specify which options you require when ordering from the following range: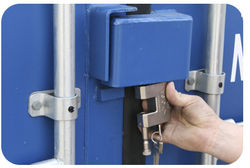 All new containers for storage come with a tamper proof steel lock box with option to purchase top quality container
padlock
(
£35
)
The full spec shipping container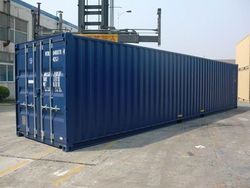 Shipping container manufacturers know that a large proportion of containers will end up on the storage market pretty quickly, so full spec containers are designed with specific features to suit the storage and domestic transportation industry. See our page on
full spec containers
for full details.
Using the new 40ft shipping container for conversion projects
We regularly complete a number of specialised conversion projects for our customers where a new 40ft container provides the ideal basic structure. They can be used to provide anything from office space to a
boiler house
, or
chemical stores
,
refrigerated stores
and
utility cabins