8ft NEW BUILD CONTAINERS
Our
8ft new build containers
are perfect for storage in small spaces. They also make an excellent alternative to the traditional garden shed, for storing tools, equipment and bikes. Both robust and secure, they are as dependable as the traditional shipping container, but in a more manageable size!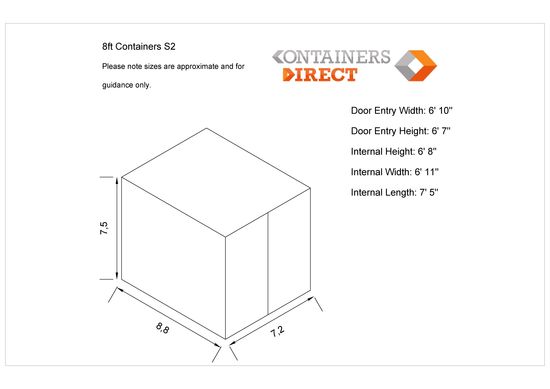 Features of 8ft new build containers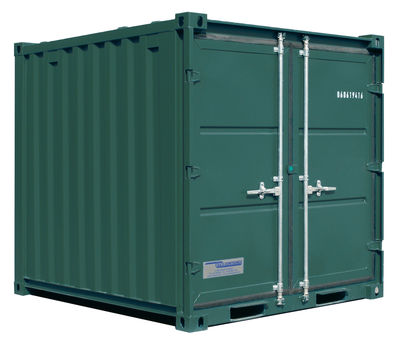 Corrugated steel


High corrosion and UV resistance


Stackable up to 3 high


Galvanised locking bar


Rubber sealed doors


4 vents


Available with wooden or steel floor


Handling with crane or forklift


Powder coated paintwork


Optional extras for 8ft containers
Repainting
Our 8ft new shipping containers come in standard blue and green colours. However, we can repaint your container exterior to any colour required from our extensive
RAL colour chart
.
Cost to repaint 8ft container - £150 plus VAT
Cost to repaint 8ft container, by masking door seals and locking gear (to retain 'new' appearance) - £295 plus VAT
Padlock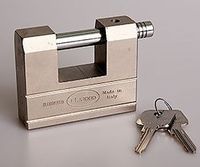 Add one of our specialist
Lock 2000 padlocks
, compatible for use with the lock box, for a discounted price of
£35 plus VAT
Lockbox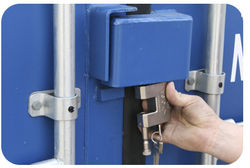 This steel
lockbox
protects the padlock from tampering - price
£55 plus VAT
Ply Lining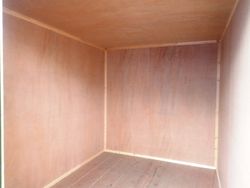 Ply lining and insulation will maintain a steady temperature inside the container, and therefore prevent condensation problems and damage to stored items, such as paperwork, textiles or household furniture. For more details, read our page on
ply lined containers
Cost to supply and fit an 8ft ply lining -from £650 plus VAT
Cladding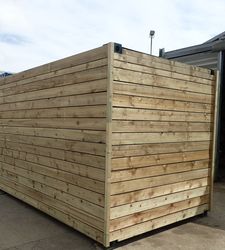 "Disguise" your container with wood cladding. It protects, looks good, and can help with planning permission. Choose from three different types of wood. For more details read our page
Cladded Shipping Containers
Cost to clad an 8ft container start from £890 plus VAT
Shelving Racks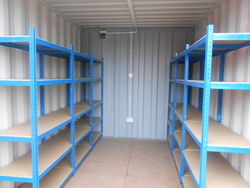 Our multi-purpose
shelving racks
are ideal for creating organised and accessible storage. With a steel framework, this interconnectable shelving is designed for heavy weight bearing.
Cost per bay (1m/3ft wide) - £60 plus VAT - fitted, OR £45 plus VAT - self fitting
Electrics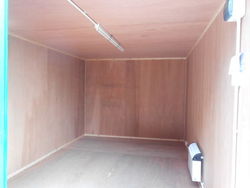 Get connected with one of our electrical packages. Even in an 8ft container, you can have power. We offer two standard options of
electrical installations
:

Option 1: One external hook up, a consumer unit, a light switch, 5ft strip light with diffuser, a double socket - from £305 plus VAT
Option 2: One external hook up, a consumer unit, a light switch, two 5ft strip lights with diffusers, two double sockets and wall heater - from £395 plus VAT

Grafotherm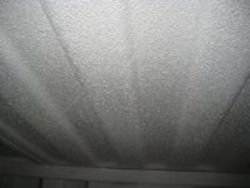 Reduce condensation in your container! All our containers can be treated with
Grafotherm
, a low cost solution to control condensation in steel containers.
Cost to treat an 8ft container - £120 plus VAT
.