8FT NEW SHIPPING CONTAINERS
Second hand shipping containers represent good value for money and are a popular choice for storage use, but often our clients choose new over used, due to increased "shelf life", and superior condition. In terms of definition, "new" shipping containers in the UK are nearly always "once used", as opposed to brand new. This is because true shipping containers are not manufactured at home, but are imported here from China. In the process of this transportation trip, the containers are loaded with cargo, which makes their shipping more cost effective.
The condition of 8ft "new" shipping containers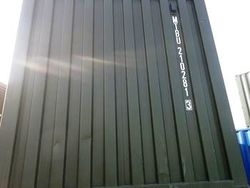 In the shipping and handling process, some evidence of handling may be evident, but no more than the odd dent or scuff, which is is purely superficial and not structural. For more details on the expected condition, and for detailed pictures, see our page
Once Used Shipping Container
Making 8ft containers
Whether new or used, an 8ft sized container has to be cut down to size from a larger container. This is because shipping containers from China are manufactured in standardised sizes of 20ft and 40ft. To offer our clients a full range of sizes, we must cut down these larger sized containers into smaller sizes. Our 8ft new containers are usually produced from cutting a 40ft into sections of required sizes, and made whole again by fitting either new doors, and/or a
new end wall
(depending upon which section of the cut down is being used). These
cut down containers
* can be offered with a choice of doors.
*
Please note cut down containers are not suitable for shipping, stacking or lifting when loaded. They can be modified upon request if these conditions are required.
S1 doors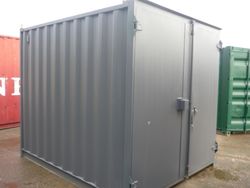 Ideal for storage containers, as they are easier to handle than shipping container doors. We make these doors from flat steel panels and include a security lock box that guards the padlock.
We retail our
new 8ft shipping containers with S1 doors
at
£1800 plus VAT
Recommended Product!
Why not add compressed door seals* to your S1 container for only
£65.00 plus VAT
S2 doors
These are original ISO shipping container doors, left in tact when the container is cut down to 8ft. Made from corrugated steel with a rubber seal, and multiple locking bars.
We retail our
new 8ft shipping containers with S2 doors
at
£1800 plus VAT
S3 doors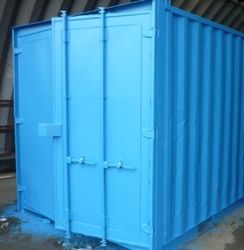 An upgrade from S1 doors, with the addition of a rubber seal and second locking bar.
We retail our
new 8ft shipping containers with S3 doors
at
£1975 plus VAT
S4 doors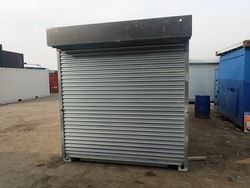 Roller shutter doors
with a choice of manual or electric operation. Made from galvanised steel, they are frequently used for container conversions, and can be fitted as an additional door in the side, or a replacement for the original.
We retail our
new 8ft shipping containers with a Roller Shutter door
at
£2395 plus VAT
Other door types
Personnel doors and side doors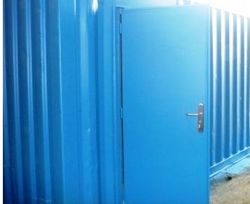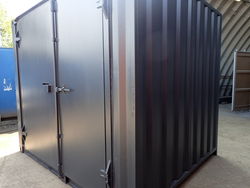 Choose a steel
security door
for pedestrian use, incorporating multi deadlocks and offering high levels of security. Cost per door
£565
Doors can also be positioned in the side of the container. You can have a
side door
to replace the end door, or in addition to.
FREE WITH ALL 8FT CONTAINERS
Lockbox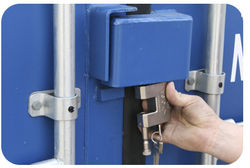 All our 10ft containers come with a steel
lockbox
, which protects the padlock from tampering (usual retail price £55)
OPTIONAL EXTRAS
Padlock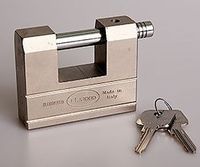 Add one of our specialist
Lock 2000 padlocks
, compatible for use with the lock box, for a discounted price of
£35 plus VAT
*Compressed door seals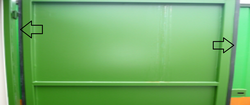 An option for S1 doors - these are attached to the inside of the container door and compress to form a
watertight seal
when the door is closed.
Cost - £65 plus VAT
Repainting
All new shipping containers are immediately available in blue and green. However, if you require an alternative colour, we are able to repaint the exterior of your container to any colour required from our extensive
RAL colour chart
.
Cost to repaint 8ft container - £150 plus VAT
Cost to repaint 8ft container, by masking door seals and locking gear (to retain 'new' appearance) - £295 plus VAT
Ply Lining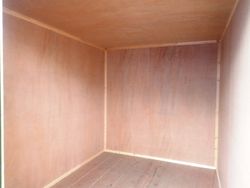 For containers requiring a more constant inside temperature, for instance when storing paperwork, textiles or household furniture, adding a plywood lining with insulating material will protect these items from moisture damage. For more details, read our page on
ply lined containers
Cost to supply and fit a 8ft ply lining - from £650 plus VAT
Cladding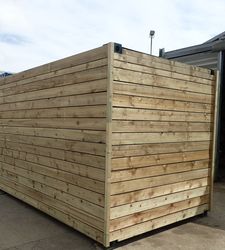 "Disguise" your container with wood cladding. It protects, looks good, and can help with planning permission. Choose from three different types of wood. For more details read our page
Cladded Shipping Containers
Cost to clad a 8ft container start from £890 plus VAT
Shelving Racks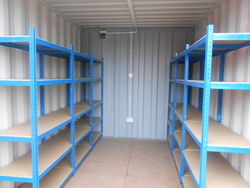 Maximise use of the ALL the space available within your container, including the height! Our multi-purpose
shelving racks
are ideal for creating organised and accessible storage.
Cost per bay (1m/3ft wide) - £60 plus VAT - fitted, OR £45 plus VAT - self fitting
Electrics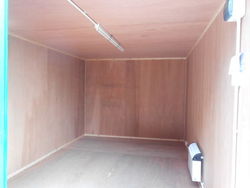 If you require lighting, heating, or sockets for your container, we've got the power! We offer two standard options of
electrical installations
:

Option 1: One external hook up, a consumer unit, a light switch, 5ft strip light with diffuser, a double socket - from £315 plus VAT
Option 2: One external hook up, a consumer unit, a light switch, one 5ft strip light with diffuser, two double sockets and wall heater - from £405 plus VAT

Grafotherm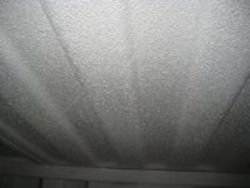 Reduce condensation in your container! All our containers can be treated with
Grafotherm
, a highly effective solution to keep condensation within containers at bay.
Cost to treat a 8ft container - £120 plus VAT
.
Ramps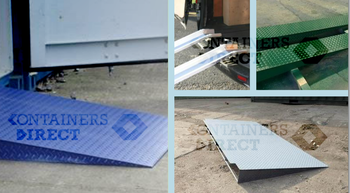 We offer a variety of
ramps for containers
- car ramps. heavy duty ramps, lightweight ramps, hinged ramps and bespoke builds. A range of sizes are also available.