CONTAINER POP UP SHOPS
Retailers ranging from big brand names like Nike and Superdry, to small independent businesses selling artisan goods, are at the forefront of the contemporary concept of the pop up shop. The humble shipping container can provide the perfect structure to transform into a boutique style retail space. Take your store on the road to capitalise on sales at festivals, seasonal markets and events, or use it as permanent fixture.
Boxpark Shoreditch
, opened in 2011, was the world's first permanent pop up shipping container mall, which led the way for a number of similar projects across London.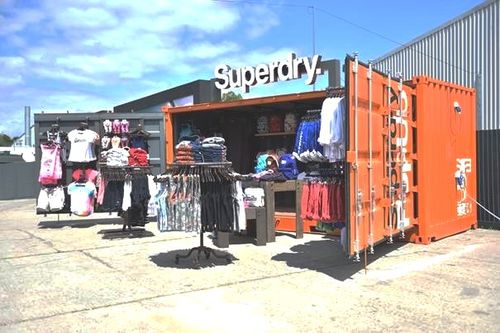 Constructing your container pop up shop
Designed and crafted to your needs, we can construct your pop up unit to any required size, although 20ft and 40ft sizes are standard and don't need cutting to size. Multiple units can be stacked for larger storage space without taking up extra floor space, and be accessed via an external staircase. Full side opening containers are a popular choice as they can be accessed via an open side with your goods on full display, true market style. Whatever size and type of container you choose, we can fit it with a range of suitable features including:







Serving hatches





Interior partition




Shutters and hatches
A pop up unit, especially one where food and drink is purchased from, requires an opening for serving. We have come up with three popular standard options, although we will always work to a bespoke design if you have other ideas.
Option 1 - Lifting hatch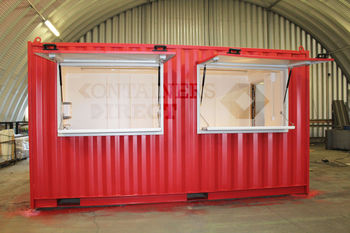 A steel hatch that opens upwards on gas struts. Lockable inside with shoot bolts when the hatches are closed.
Case studies:
15ft pop-up football club cafe
15ft pop up fish and chip shop
Option 2 - Flat panel door hatch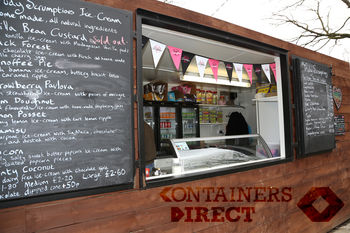 These shutter style hatch doors open outwards to rest flat against the container. When open they make great menu boards. Lockable inside with shoot bolts when the hatches are closed.
Case studies:
20ft cladded cafe
Option 3 - Rollers shutter hatch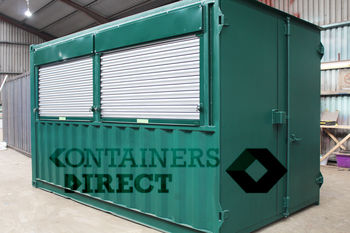 Steel lockable shutters, with either manual or electrical operation. The shutter box can be housed either internally or externally.
Case studies:
14ft pop up bar
Serving rails or a drop down serving counter can be included with all options.
Patio style and bifolding doors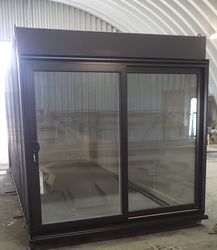 Many of our clients choose alternative door styles that lend themselves well to the function and aesthetic of a unit designed to attract customers, such as
glazed patio style doors, sliding doors and bi-folding doors
.
See
The Farm Shop
conversion as a great example of what can be achieved.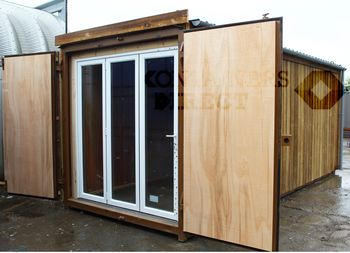 Case studies
Using 2 x 20ft full side opening containers, we made units for the internationally popular brand to sell their products market style. With a few additions such as steel racks, stud plates for signage, and a branded repaint, the shipping containers became two eye-catching, portable retail units.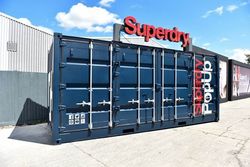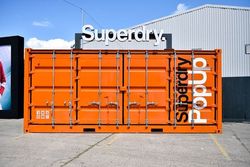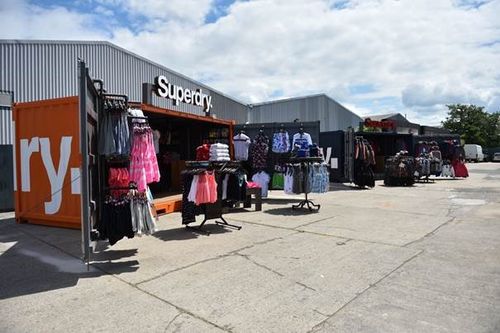 The Camlan Garden Centre is a beautiful wood clad container shop with folding glazed doors, sloping roof and interior ply lining, selling garden products and gifts in Snowdonia National Park. Converted from a 40ft container the pop up shop looks stunning in its surroundings.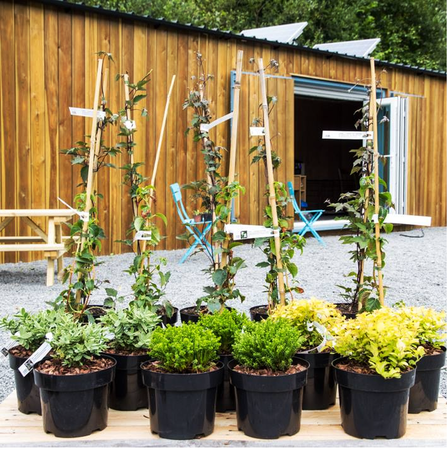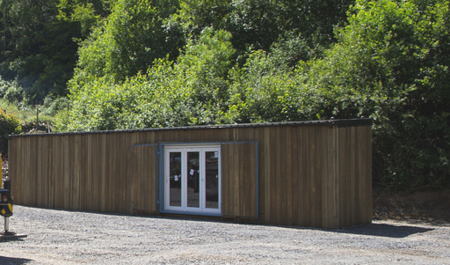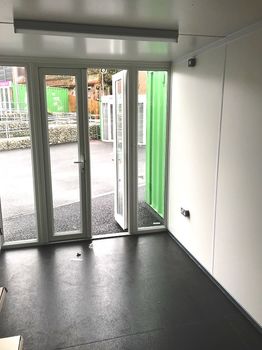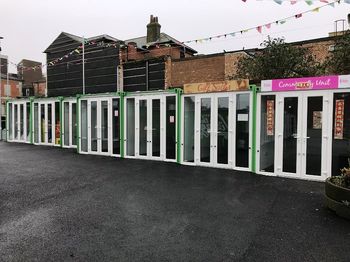 Retail units with patio doors to attract customers inside.
Pop up catering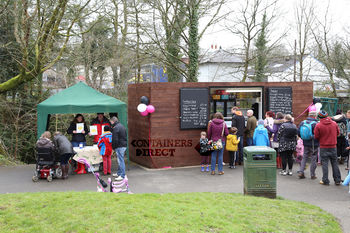 If your business is catering, the pop up container can easily be modified to sell food and beverages, with cooking and preparation facilities inside. Popular at festivals, outdoor attractions and events, pop up catering is a rapidly expanding business, with innovative and creative designs helping widen their appeal with customers and caterers. See this
20ft cladded cafe
, created for our client The Trudy Scrumptious Cafe. Trudy Scrumptious is a rural cafe in, serving home made ice cream, cakes, toasted sandwiches, tea and coffee in Tavistock Meadows, Devon. See our main page
Containers for Catering
for more ideas.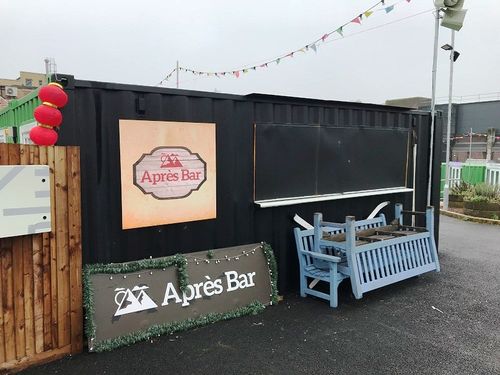 Pop up bar with top hinged serving hatch.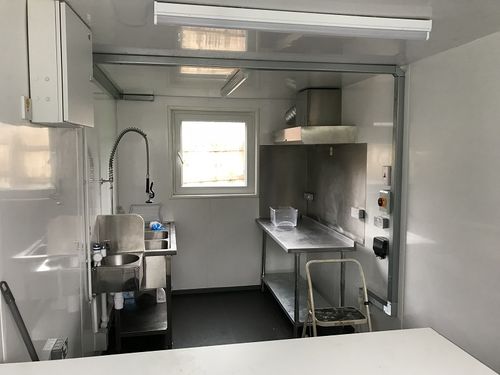 Catering unit inside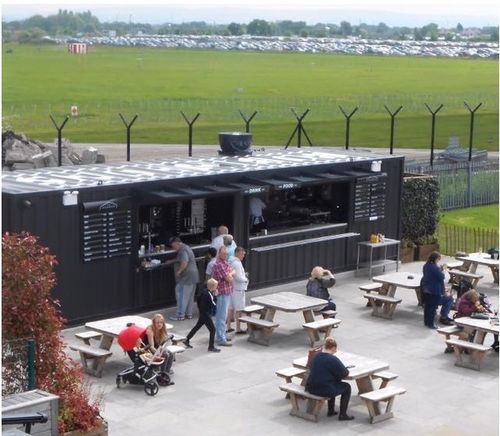 pop up container shops
and
pop up catering
, call us to discuss your design requirements and we can help transform your idea in to reality, with a low cost, highly secure shipping container conversion.