CONTAINERS AS ANIMAL SHELTERS
Shipping container conversions are becoming increasingly popular, so it was no surprise for us to start receiving enquiries about converting them for use as animal shelters. Many containers as animal shelters are used as an alternative to traditional stables or as food shelters for roaming farm animals. We are also seeing them used as a way to add much needed space for rescue shelters where budgets can be restricted but where more animals are taken in every day waiting to be rehomed. Containers as animal shelters can be a fantastic asset to your farm or land and give many years of use. As opposed to permanent buildings, our durable container conversions are economical, movable and adaptable.
Storage space for animals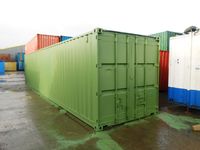 Containers Direct can cut down to any size from a standard 40ft container. Whether you need a large stable or small container as an animal shelter, we can fit the bill. Another option if you have the space for a large unit but need multiple rooms, is to add an
internal partition
inside your container shelter which you can use for storage, additional rooms for multiple animals or even as a small office or vet clinic. For more width than the standard 8ft wide shipping container, see our
extra wide new build containers
which can go up to 12ft wide.
The Container Floor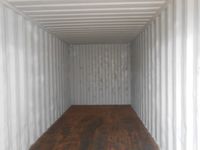 Our standard container floor is made up of two parts: steel cross-members supporting the floor with marine-grade 27mm plywood screwed into the cross-members. This gives a strong, solid and watertight base for your container shelter. Since the floor is already designed to hold heavy equipment, the weight of most animals shouldn't be a problem! If needed, we can install
vinyl flooring
as well as steel durbar if you need something easy to clean or slip resistant.
Animal Shelter Door Options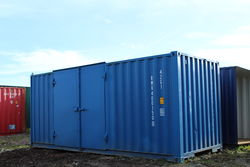 Shipping containers have a set of 8ft doors in the end as standard, however sometimes this leaves little room for large animals to turn around. Containers Direct are able to manufacture doors in the side to a variety of widths if required, even up to the full side access. We can also add another set of doors in the opposite end, to be used as an exit for the animals to walk straight through. If you're thinking of using this as part office or store, or if there are going to be people regularly using the container, why not add a
personnel door
, or even a set of
patio doors or bifolding doors
? Both options provide easy entry to your animal shelter, with the second two also doubling up as windows.
If you require
windows
for ventilation or to let in some natural light, we offer either standard windows with anti-vandal shutters, or high level windows which can be opened and closed to let air and light in.
More Optional Extras
Ply Lining
: For shelters requiring a more constant inside temperature. If being used throughout the changing seasons for the animals, or if split into storage space to keep your goods dry, adding a plywood lining with insulating material will protect from moisture damage. For more details, read our page on
ply lined containers
.
Cladding
: "Disguise" your container animal shelter with wood cladding. It protects the exterior steel, looks good, and can help with planning permission. Choose from three different types of wood. For more details read our page
Cladded Shipping Containers
.
Electrics
: Why not add some lights, sockets or even heaters to your container animal shelter? We are able to fit
electrics
to your unit depending on your requirements.
Ramps
: Standard shipping and storage containers have a lip approximately 7 inches from the ground. Although this shouldn't be an issue for most animals, Containers Direct are able to build a sturdy
ramp
to avoid the animals from stumbling as they enter the unit to a variety of weight tolerances.