CONTAINERS FOR FARMS
Shipping containers are fast becoming a common sight on farmland, as they provide an inexpensive and instant way to store essential supplies and equipment, from animal feed, fertilizers and pesticides to machinery. Some of our containers for farms have recently been purchased for use as workshops and even animal shelters. These can be
converted
to provide essential features such as windows and insulation.
Supplies and Equipment Storage for Farms
For use as a store for supplies and equipment we recommend
standard shipping containers
, which can be purchased either unmodified in sizes of 20ft and 40ft, or modified containers which are cut down to a range of sizes and have features added such as new, repositioned or additional doors, insulation and anti condensation treatment.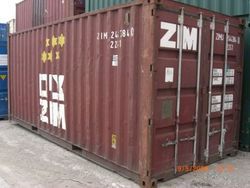 Cut down
containers for farms are very flexible as they offer a range of customised options to fit your own requirements. For instance, doors can be added into the side of the container to give better access for larger equipment. For tall machinery we also have
high cube
containers that are an extra foot taller than standard containers.
Chemical/Hazardous Materials Storage for Farms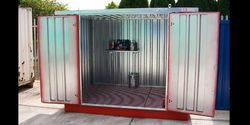 Many of our containers for farms have been adapted to store hazardous substances safely and in compliance with the standards required by the Environmental Agency and the HSE (Health and Safety Executive). It is worth checking whether the supplies you wish to store come under this jurisdiction as this would include fertilizers and pesticides. Our chemical storage containers are bunded to contain leaks and spillages, and have a range of other anti spillage safety features built in. For more on chemical containers, see our page
Chemical Stores
.
Flat pack containers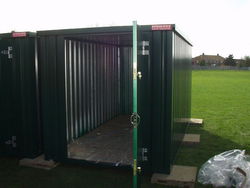 Flat pack
containers for farms are a great choice for the ultimate in freedom of movement from a store. These can be put up and down again in less than an hour, and no specialist lifting apparatus is required to move them. And they are compact enough to store away neatly during idle times.
All our containers for farms are guaranteed wind and waterproof and are extremely durable, therefore suited to both temporary and long term installation. One of the advantages they have over traditionally built outbuildings is they can relocated relatively easily, which allows you adapt its use according to the seasons.
Testimonial from the agricultural industry
We are pleased to announce that our containers for farms have recently been given the seal of approval for the safe storage of animal feed by the
Pirbright Institute
(formerly known as the Institute for Animal Health)
"Thank you, we are very happy with the container! In fact I have been requested to ask if you have a similar container in a 30ft length to store animal feed with delivery to the same address as before.

Regards

Fay"
From Gerry Harrison at Gorsey Down Farm, who purchased two flat pack containers, and a 10ft treated with Grafotherm:
"The whole chain was excellent including notice of delivery, arrival time and positive attitude of delivery driver"