Containers for Fireworks
Fireworks are no longer reserved for 5th November. They have grown in popularity for use in other celebrations, such as New Years Eve and any special private celebrations. But whether your business plans to stock fireworks on a seasonal basis, or all year round, safety regulations for the safe storage of explosives dictates they must be kept in a fully enclosed lockable metal container, such as a shipping container. Shipping containers fulfil all the required conditions set down that

A. Containers for fireworks must be closed and locked away from public access

B. Containers for fireworks must be kept in a storage space exclusively for that purpose, to prevent fire spreading in the event of an accident

C. Containers for fireworks must be robust enough to remain in an effectively safe condition throughout their use for this purpose
Shipping containers - the ideal store for fireworks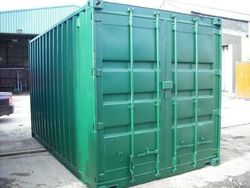 Shipping containers
are THE most secure and robust form of metal container you can buy. Made from strong galvanised steel they are built to last many years without structural failure - which means no holes or leaks! This guarantees your stock will stay dry too. As a solid metal product, shipping containers are also theft and vandal proof. All doors can be secured by a special container padlock, which we can supply, and the addition of a metal lockbox prevents tampering with the lock. This gives you double the security!
Recommended container types for fireworks
The most suitable containers for fireworks supplied at Containers Direct are cut down containers and flat pack containers. Both come in a range of smaller sizes, starting at 6ft in length and increasing in size up to 20ft.
Cut down containers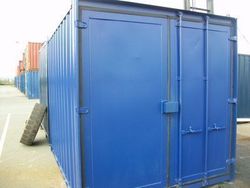 Cut down containers
can be cut to any requested size using original 20ft and 40ft ISO shipping containers, and made complete with the addition of new doors. As even the smallest amount of moisture inside a container could ruin a stock of fireworks, we recommend choosing a container with rubber sealed doors. This means either retaining the original shipping container door, or selecting an
S3 container
with specially made doors unique to Containers Direct. These doors combine the ease of use of storage container doors with the watertightness of an added rubber seal.
Flat pack containers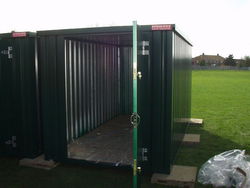 Flat pack containers
are a great option if you have problems with space or access to store a permanent structure such as a shipping container in. Flat pack containers are very flexible, as they can be constructed on site with ease, and put down and stored away conveniently during times when they are not in use.
Keeping condensation at bay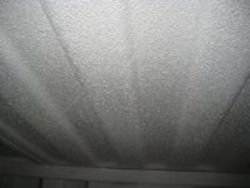 All containers for fireworks should be treated with an anti condensation product before use, to halt the progress of moisture damage within metal containers caused by temperature fluctuations. Containers Direct can treat any container you choose with
Grafotherm
prior to dispatch. This highly recommended optional extra will ensure the quality of your fireworks is maintained throughout storage.