Containers for Shipping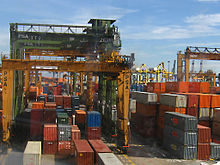 Containers for shipping are for export use, and therefore designed for the safe and efficient transport of goods and materials within a global intermodal freight transport system. This means
shipping containers
can be carried by all modes of transport (road, rail and sea) without the need to load or unload, expect at the beginning and end of the journey. To be compatible with this system, it is essential that containers for shipping conform to strict specifications - especially when you consider they are often stacked up to eight high, and as many as 16,000 units can be carried on board the largest container vessels!
What are the specifications for containers for shipping?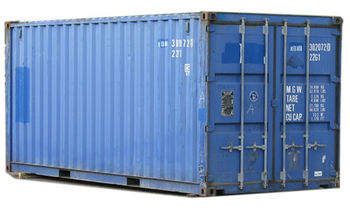 The International Standards Organisation (ISO) determines the standards that must be met for containers used for shipping (this is why shipping containers are often referred to as ISO containers). These standards include:
Steel corrugated sheet sidewalls, roof, and back panel (as the container has to endure the stresses of very heavy loads and harsh environmental conditions at sea, corten steel is used)


All-welded-steel (to prevent leaks)


Reinforced Plywood Floors


Forklift pockets (for lifting)


Corner castings (with openings for twist-lock fastenings to secure containers together)


Uniform dimensions for safe stacking (usually 8'6" wide by 20' or 40' in length)
How to tell if a container is suitable for shipping
The good news is you don't have risk any costly mistakes, or go around examining the corner castings and welding yourself! A shipping container will only be passed as suitable for shipping if it is issued with a valid and current safety approval plate. This is known as a CSC plate (issued by the Container Safety Convention. It will only hold one of these is it has passed the standard required for shipping, and will not be accepted for transportation by container shipping lines without possession of one.
New containers will have a CSC plate valid for 5 years. After this time the container must be inspected before being issued with a new plate (similar to a car MOT), and must be shipped within the time period it is issued for, which is usually between 1-3 years.
CSC plated containers for shipping at Containers Direct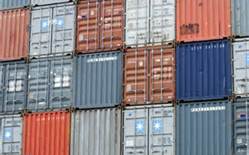 You don't need to worry about the extra cost and hassle of having to get a used container inspected and issued with a CSC plate yourself. We hold ample stocks of
20ft
and
40ft
plated containers at depots nationwide. We source our containers for shipping from nationwide depots to give our customers the cheapest delivery rates available. Why pay for a long distance delivery when we can find a suitable container nearby? All our containers are sold with the Containers Direct
Price Promise
- a guarantee to give the best quality and the best deal.