Containers for Clubs
One of our biggest buyers of smaller sized containers are leisure clubs and sports organisations. Whether you belong to a large sports club, or a small scouting group, there is always plenty of equipment to store away between club sessions, and an outdoor storage container is often needed. It is essential this stored equipment is kept dry, and protected from theft and vandalism, which is why we strongly recommend our anti vandal containers for clubs, made from galvanised steel with a double locking system.
Buy pre-constructed or flat pack for self assembly
The two biggest sellers of our containers for clubs are the
10ft pre assembled container
and the flat pack container. Both are neat enough to house on most club grounds, but roomy enough to store away large equipment.
Flat pack containers for clubs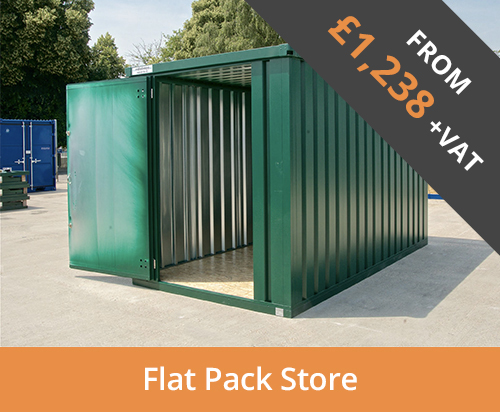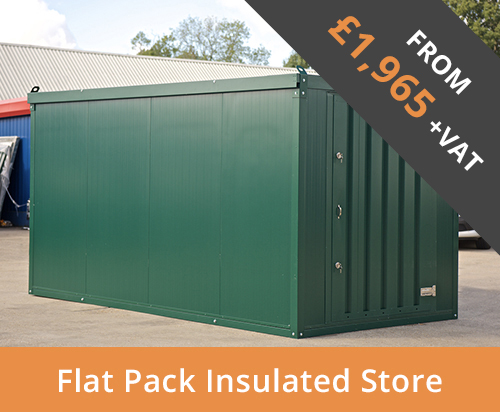 These come in a range of sizes - a standard width of 2.1m and a choice of either 2m, 3m or 4m in length. As self assembly is required, and delivery costs are far lower than with pre assembled structures, they are often the preferred choice for clubs on a careful budget. Flat pack containers are ideal for areas with tight access as they are man portable, or for situations which may require the unit to be moved around from time to time. This can be done without the need for a specialist truck, but can be done by hand by disassembling the container back to flat pack parts. For more detailed information on these containers see our
containerstore technical details
page.
Choose an insulated flat pack store for a condensation-free container.
10ft pre-assembled containers for clubs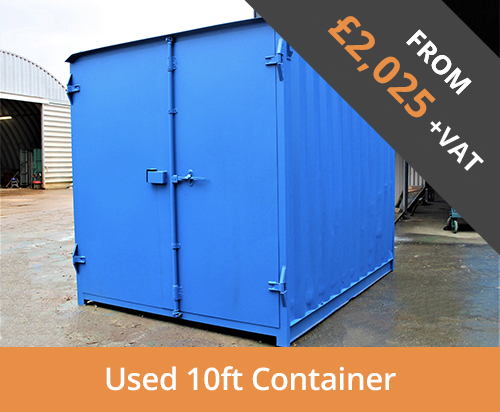 These are excellent value for money. Usually made from used shipping containers, they are very strong and will give you lasting performance. We cut them down to size from standard
20ft
and
40ft shipping containers
, to make them a more manageable size for most club premises to accommodate. However, if you do require a little more storage space, we can also provide containers in any size between 10 and 20ft.
Choose your door type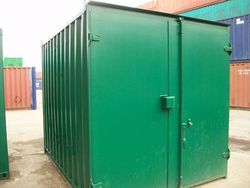 Once we have cut the container down to the required size, we are then able to fit new doors to make our containers for clubs more user friendly. As shipping container doors are quite cumbersome, lighter
flat panel doors
are often preferred by clubs needing regular access to stored equipment. For more on the choice of doors available, see our article on
shipping container doors
Have your container repainted
Once you have chosen the best type of container to suit your club, as an extra touch it can be resprayed in your club
colours
upon request.
Case study
These 3 x 10ft containers are being used to store canoes by a canoeing club in Norwich. They have been positioned next to the client's club house and repainted to match the colour of the clubhouse.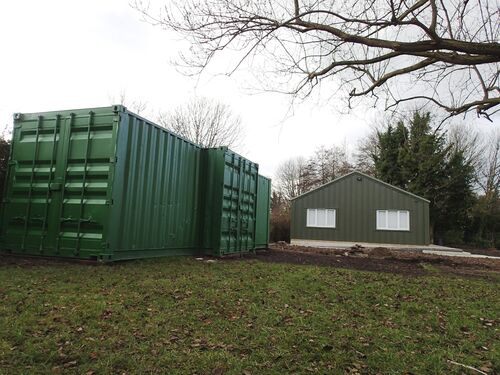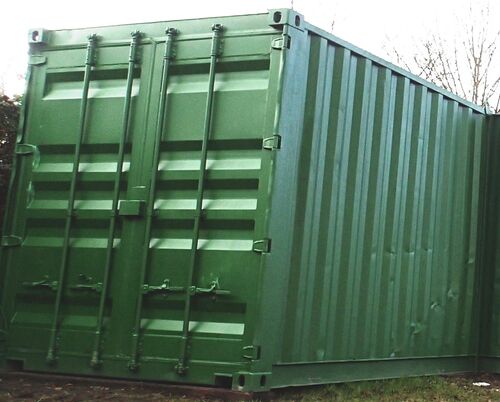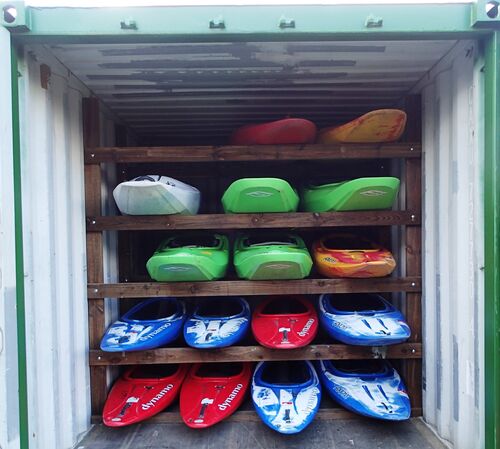 Testimonial
We sold a 10ft container, with S1 (flat panel) doors, repainted green, to the 1st Laverstock Scout Group:
"Really good service and communication by all the team members involved. Very happy with container. Thank you." Mr G Smith
We also delivered the same, in grey, to East Ardsley Cricket Club:
"Easy to do business with. Quality product at a good price and delivered on time. Would not hesitate in using them again."
Burton-Salmon Cricket Club in Leeds upped their game with a 10ft wide x 15ft long new build container:
"High quality, great service, excellent delivery company."
Read all testimonials here!