Export Containers
In the age of global commercialism, the need for shipping containers has vastly increased. Many companies are now choosing to expand operations abroad, which requires stock and equipment to be transported across sea. Containers Direct sell export containers for this purpose, and can advise on the correct type of container needed for shipping.
The golden rule for buying export containers - check it's suitable for export!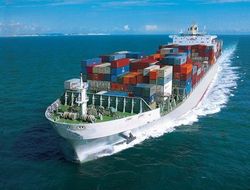 This may sound obvious, but many containers for sale are described as shipping containers, but beware, despite being shipping containers, not all of these are suitable for shipping. Because shipping containers also make excellent storage containers, many of these will have been modified at some point for this purpose, so they no longer come up to rigorous shipping standards. This article will give you guidance on what to look for to be sure your container has been passed as appropriate cargo for transportation aboard a container liner.
Standard features of export containers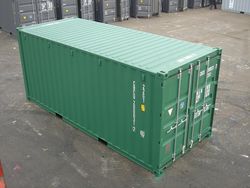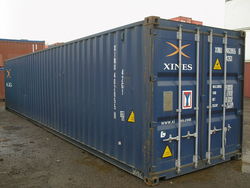 They are usually either 20ft or 40ft long to enable safe stacking. So any container that has been cut down to a different size is not suitable. The doors are positioned at the front end of the container, and must be the original doors, without the addition of a security lock box, which is common practice for storage. Original
shipping container doors
are made from corrugated steel, and have a rubber seal to keep water out. Export containers are required to be completely watertight, so they must be in good condition to come up to this standard.
ISO containers and the CSC plate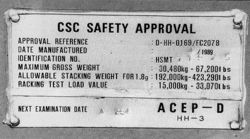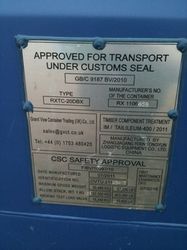 Export containers are also known as ISO containers, meaning they meet the criteria set down by the International Standards Organisation to be seaworthy. These containers should hold a CSC plate, which is a certificate that confirms it has been inspected and passed ISO standards. To see a typical example of our CSC plated export containers, take a look at our stock of quality used
20ft containers
located at our Southampton supplier depot. We hold similar containers of this standard at our supplier depots across the country, so wherever you are we can supply the goods!
If you are looking for the largest size
40ft container
, Containers Direct also stock a range of certified shipping containers at very competitive prices. Because we use supplier depots nationwide to hold our stock, we can offer excellent delivery rates on any container purchased.