Containers for Playgroups and Nurseries
Finding the room to store equipment for playgroups and nursery schools often causes a problem. With many groups using shared premises, often in church halls and community buildings, it is important that all playgroup equipment is stored away between sessions and during holiday periods. Add to this the requirements of the National Curriculum that regular outdoor play is essential for young children, and you have a lot of large and bulky children's play equipment that needs more than a cupboard to be kept in.
The perfect size for any location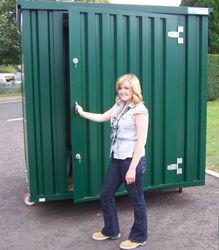 Containers Direct have the ideal solution with our suitable containers for playgroups and nurseries. Our
largest storage container
will provide any playgroup or nursery school with 4m length and 2m width of protective secure storage space - plenty of room for the plastic slides, cars and tricycles! For smaller storage requirements, containers for playgroups and nurseries are also available in 2m and 3m length.
The advantages of flat pack containers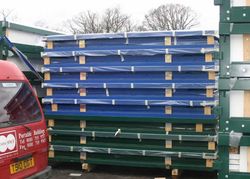 Our containers for playgroups and nurseries come in
flat pack
form, which makes them especially suited to groups in restricted city areas where delivery of a pre constructed container would be impossible. Wherever your pre school is located, these products are small and light enough to be carried by hand, even through the tightest access spaces. If you are concerned you need to be an expert in DIY to put up one of these containers, this is not the case - anyone can do it with the set of instructions provided and a screwdriver and socket set. Take a look at our basic
assembly guide
first if you have doubts. Once assembled, containers for playgroups and nurseries are simple to move, either by taking back down to their component parts, or by purchasing a set of castor feet. Other extras to make things a little simpler include a ramp for easy loading, and shelving to make smaller items more accessible.
Remarkably secure, perfectly dry!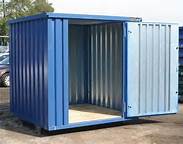 Security is always the big question on our customers mind when buying any type of container. As our containers for playgroups and nurseries are manufactured from galvanised steel (galvanisation prevents rusting), not only are they remarkably tough, but also have a dual locking system to deter any thief. The other big question asked by customers is will our stored equipment be kept dry? Well, yes! As an outdoor product these stores are guaranteed waterproof and give many years of problem free usage.
Shipping container accommodation
Recent years have seen an expansion in the use of shipping containers for accommodation. This includes schools, clubs, playgroups and nurseries. During building works they can provide a cheap, temporary site, or even become a more permanent structure. For more details on containers for this purpose, see our
container conversions
page, or speak to one of our sales team who can advise.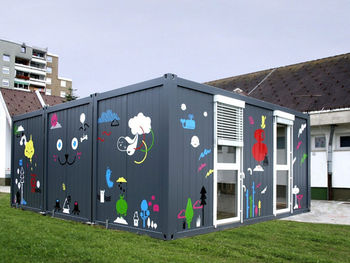 Testimonial
Hyacinth's Day Nursery purchased a 4m flat pack container, with shelving and a ramp, for storage, and were very happy with the additional service we provided during assembly.

"I had some problems levelling the container as the door not close, and even though I chose to set up the container myself, the company sent their engineer to correct the levelling, all for free. Very impressed!" Charles Rodrigues