Flat Pack Containers in London
Containers Direct supply
flat pack containers
to London and the South East. These are ready for delivery now, and we can offer them at reduced deliver rates due to their compact nature. Flat pack products can be transported in bulk, and without a hiab vehicle, unlike pre-assembled containers, decreasing costs considerably.
Cheap and easy to deliver AND quick and easy to assemble!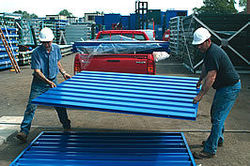 Flat pack containers in London are great news for customers who need storage space but their location makes it impossible to take delivery of a large ready assembled container. Flat pack containers can be delivered almost anywhere as they are assembled on site, and what's more they are easy to take back down for relocation. Take a look at our
guide
to putting them together to see how simple it is.
Our flat pack containers to London come in two ranges:
Flat pack storage containers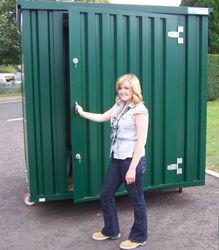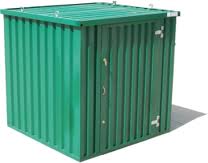 Storage containers
come in a standard width of 2m, and lengths 2m, 3m or 4m, so they'll even fit into a small back garden! Made from galvanised steel and guaranteed against leaks and corrosion, you can expect many years of quality use out of our flat pack containers. A range of optional extras is also available to customise your store, including:


Self levelling or forklift feet


Ramp


Shelving


Door repositioning
Flat Pack Container Dimensions
| ContainerType | Length | Width | Height |
| --- | --- | --- | --- |
| 2m | 2.1m | 2.1m | 2.1m |
| 3m | 3.1m | 2.1m | 2.1m |
| 4m | 4.1m | 2.1m | 2.1m |
Flat pack chemical stores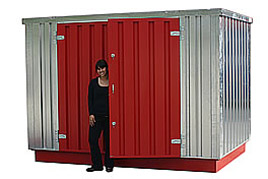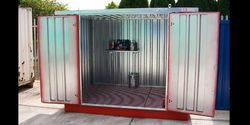 Chemical stores
have the same features as our storage container, but in addition are designed for the safe storage of any hazardous substances, with inbuilt anti spillage features and double doors for easy access.
Flat pack chemical stores dimensions
| Container Type | Length | Width | Height | Weight | Sump capacity |
| --- | --- | --- | --- | --- | --- |
| 2m | 2.16m | 2.30m | 2.24m | 520kg | 6801L |
| 3m | 2.16m | 3.08m | 2.24m | 633kg | 9041L |
| 4m | 2.16m | 4.08m | 2.24m | 781kg | 1212L |
Galvanised or powder coated finish
All flat pack containers going to London purchased from Containers Direct come with a repaint option. Standard colours available immediately are blue and green, but there is a vast selection of other colours available with a lead time of six weeks. See our
colour chart
for the full range.