FLAT PACK SHIPPING CONTAINERS
Self assembly storage containers
are often referred to as flat pack shipping containers, as the majority of storage containers on the market are indeed used shipping containers. Most shipping containers end up being used for storage at some point, as they are extremely strong, secure and will remain waterproof for a very long period of time.
Designed for storage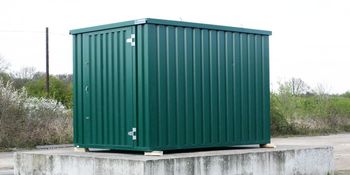 However, it is important to note if you are looking for
flat pack shipping containers
, these containers are not true shipping containers. They are not suitable for shipping, and are made only for the storage container market. But they do make great value storage units, and as they are flat pack products they offer some great advantages over original shipping containers used for storage.
Low cost and space saving - without compromising on quality!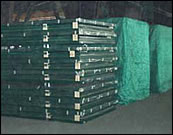 The cost of flat pack shipping containers is considerably lower than containers permanently welded together. Costs can be kept to a minimum in terms of factory production, storage and delivery when handling the flat panel components of self assembly products. An enormous amount of space is saved and no specialist lifting gear is required to transport them as they are completely man portable.
This container can be put up almost anywhere!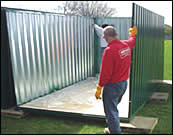 Not only is this cost effective but also gives the customer an enormous amount of flexibility at their end. Flat pack shipping containers are often the only type of containers suitable for many locations, as they are light enough to be man handled and the components are small enough to fit through small passageways. There is no need for a crane, forklift or specialist tools to deliver and erect them - just a screwdriver and socket set and you're up and away! And once erected they can be moved with ease to a new location by reversing the process as quickly and simply. See our
construction guide
for more details.
Join together for larger areas of storage space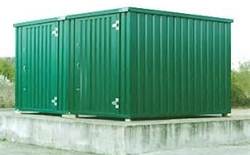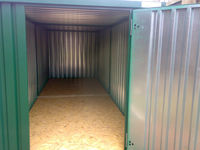 Flat pack shipping containers are also
modular
, meaning they be linked to each other to form larger areas of storage to fit the available space, either end to end of side by side. When not in use they can be folded back down and conveniently stored away without taking up too much space.