Foldable Steel Storage Containers
Foldable steel storage containers are unique
flat pack containers
that offer secure, on demand portable storage anywhere you want it, wherever you want it!
Hassle free transportation and assembly....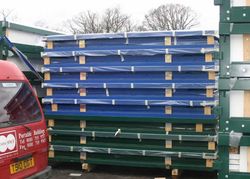 They are quick and easy to assemble and disassemble, and the job can be done even with limited time and resources - it's a two man job with just a screwdriver and socket set! Unlike traditional non foldable containers they can be moved from site to site without the need for a large crane mounted lorry. Not only does this dramatically reduce transportation costs and makes loading and unloading simple, but also means these containers can reach sites that are inaccessible to other types of storage containers and large delivery vehicles. Foldable steel storage are so light and compact once folded down that if necessary you can carry them to their final destination.
....And easy to dismantle again
Foldable steel storage containers are easy to store between uses. When disassembled they are compact enough to store away flat.
For an overview of the how to put foldable containers up and down, have a look at our brief
assembly guide
. Detailed instructions and all the fittings required come with the product.
Size options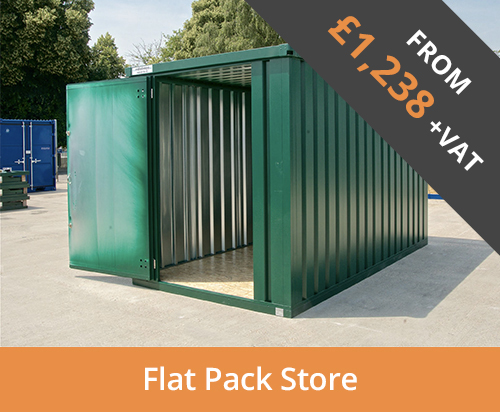 Foldable steel storage containers come in three lengths, each with a standard width of 2.1m. The smallest size is compact enough to be used as a garden shed, even in a small back garden in the most restricted of spaces. These products are also modular, so you can expand on storage space at any time by joining thee units together.
No unauthorised entry!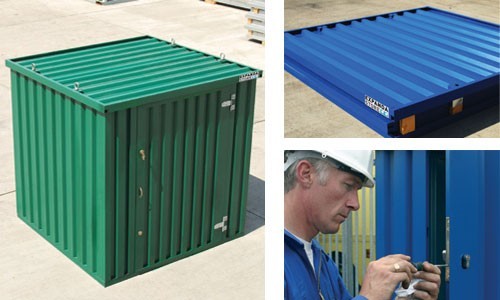 As well as being highly flexible, foldable steel storage containers are also very secure. They are made from galvanised steel which means they are theft and vandal proof. Double steel doors with dual locks are a deterrent to unauthorised access, and the steel structure of the container body makes them wind and waterproof and very resilient to damage.
For more detailed technical details on foldable steel storage containers see our
Containerstore
information page.
Other foldable containers
Find out more about our other foldable containers, including untis to store chemicals, and offices that are compact and portable enough to fit in your back garden.
Testimonials
"Container is perfect for what we want. High quality, excellent communication & customer service. Arrived earlier than promised. Driver was helpful. Highly recommend."

From Drivelodge Motorhomes; who ordered a 2m self-assembly container

"I have done a lot of research finding the right container at the right price. I am delighted with our purchase and the service I got from your staff."

From Angela Winstone, Butterfly's Nursery who ordered a self assembly container.

"This was the first time we have used containers direct and they were brilliant. We would use them again."

From Debra Graham, who ordered a 3m flat pack container.