High Cube Containers
ISO
shipping containers
are a standardised length and width, which is crucial as it allows them to be secured together for safe stacking when on a cargo vessel. The standard container length is either 20ft or 40ft, and the standard width 8ft. Without this rigid uniformity, the containers would topple! However, the height of the container doesn't cause an issue, which allows for taller containers to be produced. These are know as high cube containers.
One foot taller!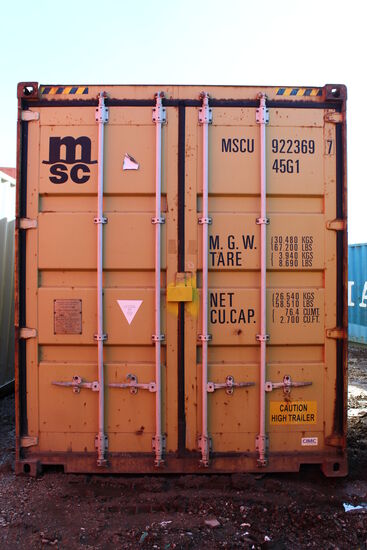 Ordinary shipping containers are 8ft 6in high, but high cube containers give you an extra foot in height, standing at 9ft 6in. Ideal for tall loads or if you need to squeeze just a little bit more into the container - with 20fts, high cube containers increase the internal space available by 250 cubic ft, and with 40fts you gain an extra 300 cubic ft! In all other aspects high cube containers are the same as standard height containers. They are made from strong Corten steel, are waterproof and highly secure. Container Direct have both new and used
20ft high cube
containers and
40ft high cube
containers for sale. Along with these standard sizes we also
cut down containers
to give you any length required, anything between 6ft and 40ft long! Just ask for high cube containers if you require the additional height.
We have supplier depots holding high cube stocks in most regions of the UK, in order to give our customers the best deals on delivery, so please enquire about availability in your own area. From Southampton to Wales and Glasgow we can supply any length of high cube container to our customers.
Starting a new trend!
As the demand for space increases, we have found that our High Cube containers are quickly becoming a best seller. These containers are often preferred for conversion projects, particularly for offices, workshops, pop-up shops and exhibition boxes. They are also ideal if the container is being ply lined or melamine lined, as the framework to insert ply lining or melamine lining can take up valuable space in an ordinary box, but this problem is easily eliminated by using a High Cube.
For some inspiration on how to incorporate high cube containers into your container design, take a look at our
container conversion projects
.
Secure, dry storage for over height items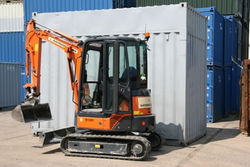 High cube containers make great storage units too, especially for plant equipment, such as diggers, that may be too tall to clear a standard container height. As they are identical in specification to standard shipping containers in every other way, they are extremely tough and secure - virtually impenetrable through the defenses of a thick steel body and double locking system, so risk of loss of expensive equipment is minimal.
Optional extras
As with all our shipping containers we offer a wide range of extras to customise your container and adapt it to your personal requirements.



Request a Quick Quote!
Contact our sales team for your no obligation quote, including delivery!
Testimonial
"I have purchased 4 containers so far from Containers Direct, all hassle free with great service. If I ever need anymore you will be the first place I go to! Many thanks"

From Grant Wilson from Total Print Ltd, who needed two 40ft high cube containers.