PORTABLE STORAGE CONTAINERS
Portable storage containers
are the alternative to fixed structure storage containers, recommended for anyone that frequently needs to move their container from place to place, or would find difficulty in taking delivery of an ordinary container.
Easy delivery without a hiab vehicle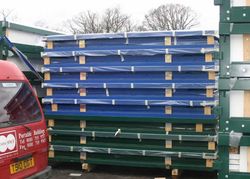 Because portable storage containers are transported flat, having clear access for an unwieldy hiab lorry is not an issue, which means they are suitable for virtually any location. And once delivered the parts can be lifted off the truck and taken by hand to the chosen spot for erection. No other storage product is so convenient, flexible and cost effective as this!
From flat pack to portable storage container in less than an hour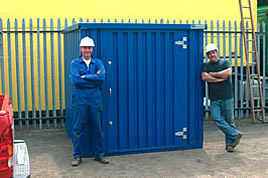 After delivery portable storage containers are
assembled
on site, but the good news is it should only take around an hour to screw the six flat panels, frame and door together to create a standing storage unit all ready for use. The reverse operation is also simple, as the store is unscrewed again and the parts lifted by hand to any transport vehicle wide enough to accommodate the panels - no cranes required! These containers can be moved as many times as needed with very little effort and cost involved.
From garden sheds to school stores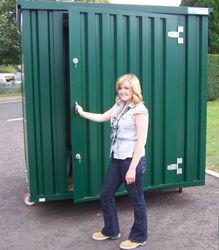 All portable storage containers are made from steel, galvanised to prevent corrosion, so this product is strong, durable and secure. This makes the smallest
2m
size ideal for use as a garden store and makes a great alternative to a traditional garden shed. There a range of extras available to customise your store and organise your storage, such as shelving and castor feet.
For larger storage units, very popular with schools and clubs, 3m and 4m portable storage containers are available. Please note these dimensions are for the length of the unit - all units have a standard height and width of 2.1m.