PORTABLE OFFICES FOR SALE
Containers Direct offer new and used converted site office containers and portable offices for sale to most areas of the UK, either for site accommodation or for use as low-priced office space.
Most of the portable offices for sale we supply in the UK are destined for use as site accommodation. These units have become increasingly more popular, especially with companies who are looking to replace hired site accommodation, clubs in search of clubhouses and schools in need of temporary offices and classrooms.
Unless indicated otherwise, all of the portable offices for sale available from Containers Direct carry a 12 month watertight warranty, and are available with economical delivery rates making them excellent value for money.
100% Customisable Portable Site Offices for Sale
Containers Direct specialise in repurposing and converting
used
and
once-used
shipping containers into portable site offices using our in-house modification facilities. We are able to completely customise your container based on your requirements, including the configuration and type of
doors
,
windows
,
electrics
,
flooring
,
lining
and
paint colour
.
In addition to the standard features, we also offer upgraded options to suit your requirements:
Tilt and Turn Windows: Giving a more modern look and feel to your conversion, our UPVC windows are ideal if your office is going to be used as a garden office or as a customer facing office unit. We also fit polycarbonate window panels if you require a full side of windows which can be fitted to the full height of your unit.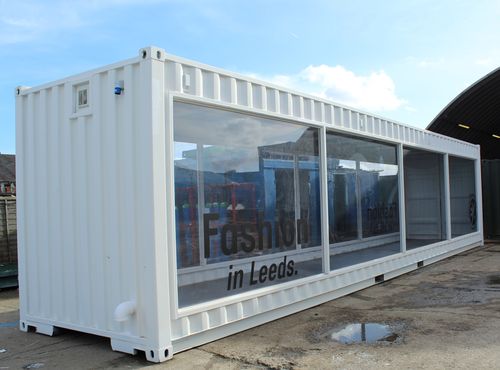 UPVC Doors: One of our most popular style of doors, these allow wider access into your container as well as more light and a better looking design than the traditional steel personnel door!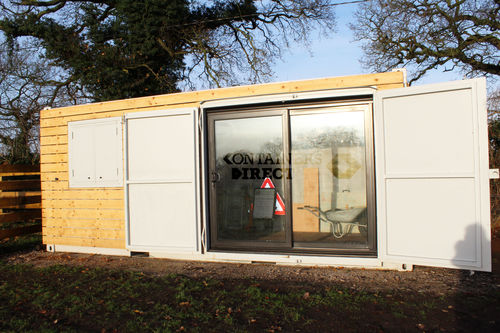 Cladding: Containers Direct specialise in cladding shipping containers to disguise the appearance of your unit, particularly where our customers are faced with strict planning restrictions. There are three standard cladding options: Rustic, Clean Cut and Shiplap.