Preparing the Ground for Your Container
Ensuring the container is sited on hard standing and level ground is very important. Uneven ground can lead to containers "racking out", which can cause issues with properly opening and closing the doors. Racking out occurs even if just one corner of the container isn't level, particularly if the contents of the container are then unevenly distributed; the container will twist slightly which places the doors out of alignment, making them difficult to close.
Pre-delivery preparation
Where you choose to place your shipping container is very important and we strongly recommend placing your container on ground which is both level and hard standing. An even, solid site is the ideal environment to position your shipping container on, as soft and un-even ground may cause the corners of the container to sink, and therefore 'rack out'.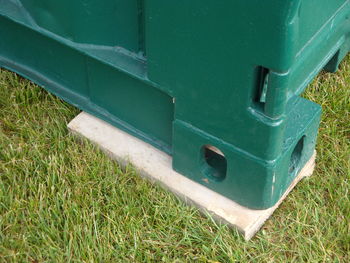 Standard Shipping Containers
Standard Shipping Containers bear their weight entirely through the corners and so placing concrete slabs underneath the four corner posts, or using railway sleepers underneath the corners of your container, will typically prevent racking out and keep your container level and secure.
Modified Shipping Containers
Where you are having modifications made to your container e.g. personnel doors, S1 Side Doors, large apertures or windows etc., you will need to place supports underneath the bottom rails of your container. When installing such modifications the bottom rail can sometimes deflect slightly, particularly directly beneath the doors/windows/apertures, and so this additional support is crucial to ensure the container remains perfectly level and all features retain full functionality.
New Build Containers
If you have purchased a New Build Container, we recommend that you place your unit on a level hard standing platform supporting the entire base of the unit. This is because these containers are domestic units only and require full support to ensure they remain level.
With all containers, we strongly recommend you do not place your container onto grass/soft ground as the containers are likely to sink. We understand, for some customers, siting containers in fields is the only option however please ensure the container is positioned on a full hard standing base if you do so, and remember that getting your container onto the field will be up to you, as our hauliers are unable to leave hard standing ground. Check out our
container delivery
page for more details.
Railway sleepers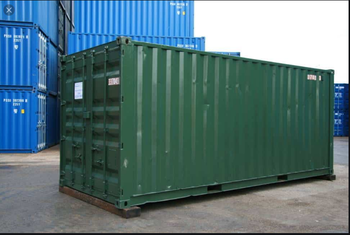 Another solution is railway sleepers. These are laid on the floor underneath the corners, similar to concrete pads, to aid in levelling the container. We can provide sleepers if required -
£180.00 plus VAT
for a pair. These will be delivered with your container, and you can place them down prior to the haulier offloading your unit.
Post-delivery checks
When the container is delivered, before the haulier leaves site, an easy way to check the container is levelled properly is to full open and close all of the doors. If you're experiencing issues at this stage, the likelihood is that the container isn't 100% level. The haulier will stay on site for up to half an hour to ensure the container is fully level, and can lift the unit back up again while small corrections are made to make sure everything works. Pieces of flat timber can be inserted under the corners of the containers if you're experiencing issues to level the container out. We recommend you have a few pieces ready before the haulier arrives in case these are needed.