REPAINTING NEW SHIPPING CONTAINERS
Although new shipping containers do not necessarily need a new coat of paint, as their cosmetic condition will be very good, the majority of new containers are either blue or green. Often our clients will request repainting in alternative colours, especially if the container is being used as the basis for a conversion project, whereby a specific colour to reflect the company/organisation is desirable. A wide range of colours are available, and can be viewed on our
RAL colour chart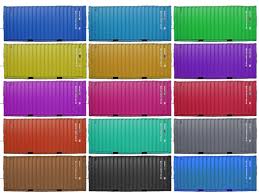 Ways to repaint new shipping containers
As well as choosing the colour, there are three distinct ways of repainting new shipping containers. Your choice will depend upon the required use of the container, and your personal preference.
Option 1 - Standard all-over repaint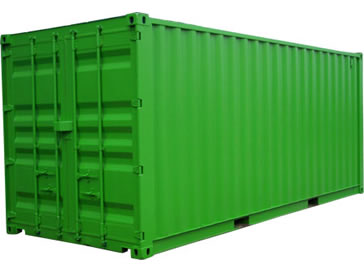 This option is a simple respray over the entire container - the results will be as in the adjoining picture.
Prices for standard repaint:


10ft - £150


15ft - £170


20ft - £250


30ft - £300


40ft - £350


Option 2 - Repainting to retain 'factory finished' appearance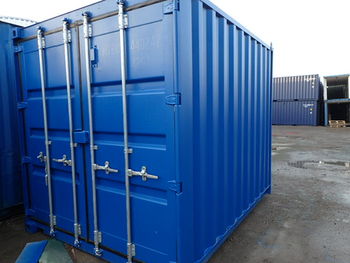 We do this by masking the rubber seals and locking gear on the container doors. By leaving the rubber seals and steel locking bars unpainted will retain its new appearance. This is done by masking these parts of container before respraying, as pictured below.
Prices for repainting with masking:


10ft - £300


15ft - £330


20ft - £350


30ft - £430


40ft - £500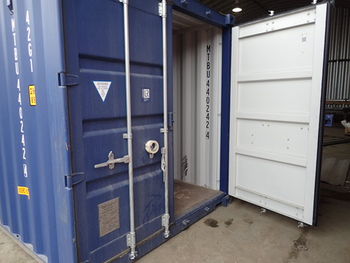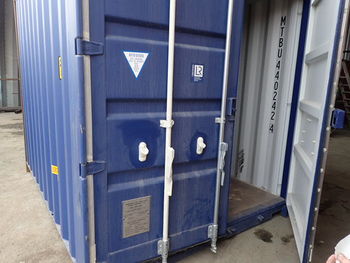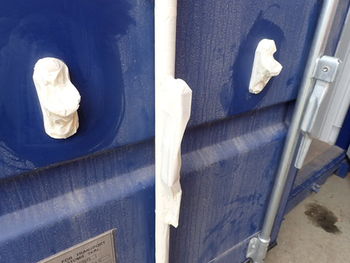 Option 3 - Repainting with re decal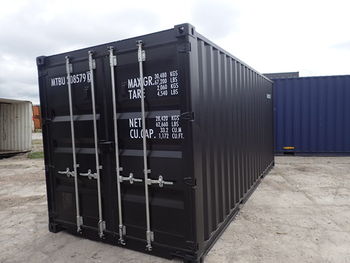 If your container is required for shipping, it's essential the shipping container/box number is visible on every part of the container required under shipping regulations. The decals must be displayed in the following places:


Right hand door


Left hand door


Front end


Right side at front


Two on roof - front and rear


This means removing every decal on the container before repainting, and then reapplying afterwards. We also mask the rubber door seals and locking bars, as in option 2, before repainting, or do a standard repaint all over. Take a look at a recent example from our workshops of
repainting containers for shipping
.
There is a supplementary cost from £260.00 plus VAT to remove the existing decals and then re-decal after painting