Containers With Side Doors
Many shipping containers converted for storage have had new doors fitted, and as part of this process the doors are sometimes repositioned to the long side of the container. Shipping containers are almost exclusively built with their doors at the narrow end of the container, which suits uniform shipping requirements, but when you have restricted space in which to accommodate your container, it's often better to use a container with side doors.
Position your container anyway you want!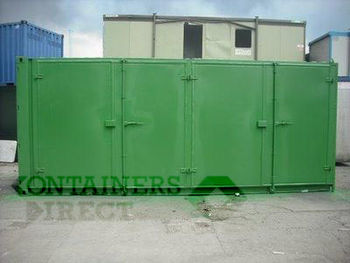 Some containers have more than one set of doors, both on the end and along the side, which improves access and gives you the option to position your container with either the long end or the narrow end facing out, depending upon your available space.
Two sets of doors!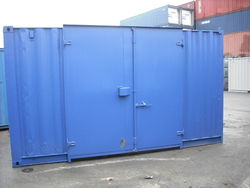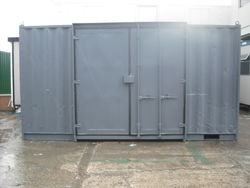 When purchasing a shipping container for storage purposes, it is well worth considering if a container with side doors would be best for you. If you opt to retain the original end doors you will have two sets of doors. Whether you place the container long ways or side ways you will always have an unobstructed door. Choose from either S1 doors, or S3 doors, as shown above, or see below for more options.
Other door types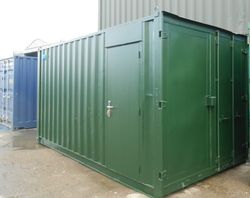 Another popular option for side doors, is the
personnel door
. For large, bulky items the container end doors can be used, and a simple personnel door in the side makes for easy access.

Or choose
roller shutter doors
, suitable as end or side doors.
Extra wide doors
Standard shipping container doors have total width of 7ft 8in. However, upon we request we can make our flat panel doors, and roller shutters wider than this. Our
extra wide doors
can be made to any width that can be accommodated in the long side of the container. This picture illustrates a total door with of 14ft. You can also choose where in the side you would like the doors - they don't have to be in the middle!
Three sets of doors!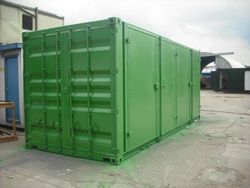 Or for even more options, this
20ft shipping container
has three sets of doors! This container combines the conventional shipping doors on the end, which have the advantage being made from the thickest quality of steel and a rubber seal, with side doors specially made from lighter flat panels which are easier to handle.
Or fully opening side access!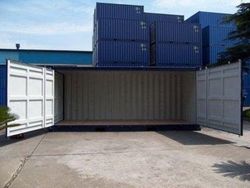 For the ultimate in easy access we have a
container with side doors
that opens out to give complete access to the interior - that's around 20ft of access compared with 8ft on a shipping container with end doors! Ideal for use with loading pallets or a forklift. Again, the original shipping end door is still in tact for use at times when the side access may be blocked by other obstacles on site.
More side door containers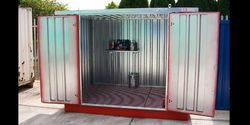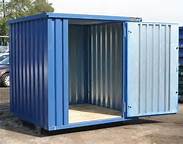 These are just some examples of storage container with side doors. Please browse our products pages for more examples, including our unconventional sized conversions,
chemical stores
, and
flat pack storage containers
.