SKYLIGHT WINDOWS IN SHIPPING CONTAINERS
Skylights are an attractive and secure way of bringing extra light into your shipping container conversion. Light from above creates a light and airy space inside containers, making it feel more open, less "claustrophobic" and larger. Suitable for most conversions, especially offices and welfare units.
Reasons to choose skylight windows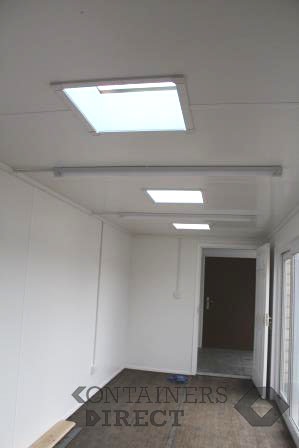 Reduced energy consumption - less dependency on artificial lighting reduces the use of electricity by as much as 10% and lower heating bills.


More light - the skylights we fit have a generous glazing area that lets in up to a third more natural daylight than standard windows.


Reduction in mold and mildew - shipping containers can be prone to condensation but sunlight is proven to lessen the production of these damaging and unsightly organisms.


Good for the mind and body - studies show significant improvements in well-being and performance where there is plenty of exposure to natural light


Security - tamper proof security fixings and impact resistant polycarbonate deliver the highest security levels


Contemporary style - an attractive skylight both inside and out, as the compact low-rise profile blends in with the container roofline
Fitting skylight windows in shipping containers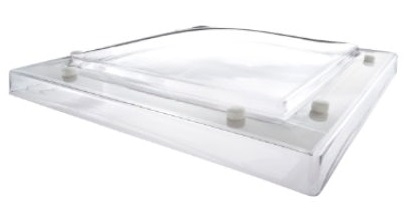 After cutting the correct sized aperture into the roof, we need to build two frames to hold the skylight, the first from 75mm x 50mm box section, the second, to fit on top of the first, from 50mm x 25mm box section. Once fitting is complete, we seal and test for watertightness.
Examples of skylight windows in shipping containers
Take a look at our fantastic
conversion with skylights
completed for Dorset County Council's community project, featuring separate spaces over three containers, for storage, workshop and cafe. The skylights feature in both the workshop and kitchen spaces.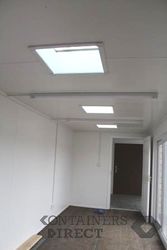 We also fit:
Anti vandal windows


UPVC windows


UPVC Patio doors


UPVC Sliding doors


UPVC Bi-folding doors


Extra large/full length windows


Port hole windows
For more details see our page
Shipping Container Windows