Stacking Shipping Containers
ISO
shipping containers
are designed to be stacked in order to maximise space on cargo vessels. This is due to the structure of the container: the top and bottom rails of shipping containers don't actually meet! Instead, all the weight is carried through the four corner posts, and containers are locked in with
twist locks
whilst in transit. This is one of the main reasons why shipping containers have to conform to standard
dimensions
.
The reason why containers are stacked for storage reasons is to maximise space. Stacking containers is a great way to utilise and increase the storage capability of your site if the ground footprint is limited. Most commonly seen in shipping container depots, and even in self-storage container yards, stacked shipping containers are a very useful feature when considering storage options.
Twist Locks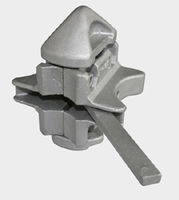 Twist Locks are essential for stacking as they ensure the corner posts are locked together. This is in order to stop the containers from moving independently of one another, and to ensure the top one doesn't fall, for example, in extreme weather conditions. Another method to ensure the container is secured when stacked, it to employ a welder on site to spot weld the containers together via the corner posts. This is best done if the containers are intended to be a permanent structure.
Cut Down Containers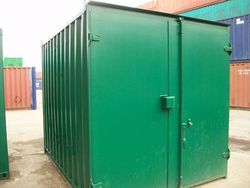 We specialise in
cut down shipping containers
for storage, modifying the length to suit individual requirements by cutting down from
40ft
or
20ft
containers. In most cases, this means that you are unable to stack these containers, as the corner posts are typically removed during the process. If you do need to stack containers which are cut down in length, we are able to help! We have a process called "Cut and Shut" where we retain the corner posts allowing for the units to be stacked on top of each other. Usually, you would require the units to be exactly the same size to ensure that the corner posts rest exactly one on top of the other to support the weight of the top container. However, if you need a smaller unit to sit on top of a larger one, we can also add a welded "goalpost" inside the container, with additional corner castings at the required length along the top and bottom, to support the top unit. Our sales team can always help if you have specific requirements in mind.
Staircases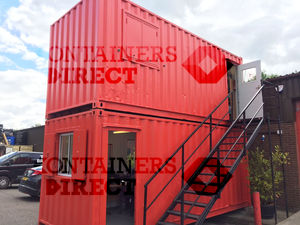 Once you've stacked your containers, you need a way to access the top one! Containers Direct can provide specialised container staircases, complete with platform, so you can access your top level storage space. These units need assembling and bolting, or welding, to brackets to keep them secure once on site.
Doors in the side?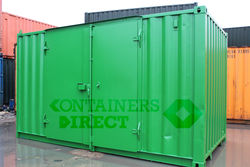 A common request to make it easier to access the storage on the top level is to have a set of
doors in the side
of the container. These can be instead of, or in addition to, the original container doors. The staircases provided can be altered to allow for side entry if required.
Delivery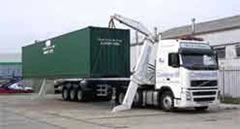 Most hauliers will add on an additional delivery charge for stacking units, which can affect the overall delivery rate. This is due to the additional time required on site to ensure the containers are directly on top of each other and level.