STEEL PEDESTRIAN DOORS
Also known as personnel doors, these type of doors on containers and portable offices are designed for pedestrian entry, as opposed to loading/unloading cargo. Cargo doors can be quite cumbersome to use for frequent access, particularly if you just want to pop in and out again without performing a major loading operation! And of course if the container is being used as a
portable office
or
workshop
, as opposed to storage, steel pedestrian doors are the only practical choice.
Features of steel pedestrian doors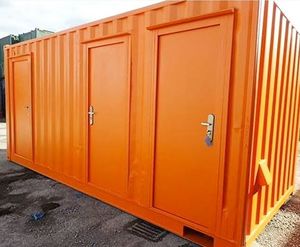 Secure! Anti theft and vandal steel construction, with 10 point locking system


Practical! Steel lever handles make opening and closing a simple one step manoeuvre


Durable! Weatherproofed with rubber seals and thermal insulation


Flexible! Can be fitted anywhere you want on the container, or in addition to cargo doors



Opens outwards*
Measurements:
890mm wide x 2075mm high. Clear opening height = 1995mm
*
For inward opening fit there is a £75 plus VAT surcharge
Case studies
From left to right - the cabin office, the catering business and the bike shed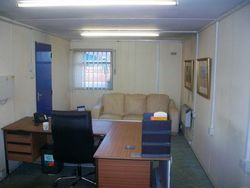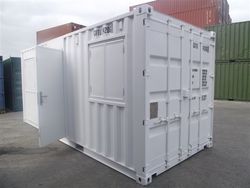 Each of these recent projects completed at Containers Direct required the use of steel pedestrian doors, not only for practical purposes, but for a more aesthetically pleasing look, which is particularly important for our clients using the container as a base for operating a business.
For more on container doors, see our article
A Guide to Choosing Shipping Container Doors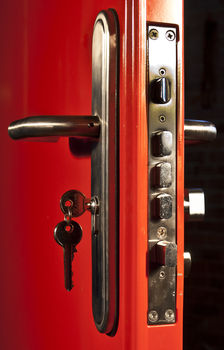 The cost for a steel pedestrian door, including fitting, is £565 (£75 surcharge for inward opening)
Sliding doors
We can use other styles of personnel doors for our bespoke conversions, including glazed patio doors and sliding doors. Please enquire for these options.