Steel Storage Containers
Generally there are three types of steel storage containers - used shipping containers, converted shipping containers, and purpose built stores. Each has their own merits, depending upon what you intend to store inside, and where you will be keeping your container.
Used shipping containers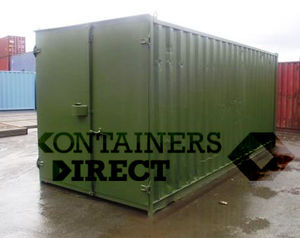 These are the strongest of all steel storage containers, as they are built to endure transportation overseas where they are subjected to wet conditions and the weight of other containers piled up on top. For this reason they are made from a high grade of steel with a rust retardant coating, have thick floors and heavy doors with rubber seals and strong locks. Shipping containers make excellent stores on construction sites where building materials, plant machinery and tools need to be securely stored. These containers are very hard to break into or damage, hence they are also known as anti vandal containers. They are also ideal for the storage of household furniture items, although we recommend using a newer, or very good condition container for this purpose, to protect any vulnerable items from moisture damage. These steel storage containers are available in standard shipping container sizes of
20ft
and
40ft
in length, and 8ft in width.
Converted shipping containers
These have all the benefits of a shipping container but are cut down to produce a range of convenient sizes to suit customer demand. For example,
10ft storage containers
are especially in demand, so a 40ft shipping container will be taken and cut up into four new 10ft storage containers. During this process, new doors will have to be made for three of the containers, which is why you will find many steel storage containers with what are known as flat panel doors. Many customers prefer these to the heavy shipping container doors, as they make regular access to the container much easier.
Purpose built storage containers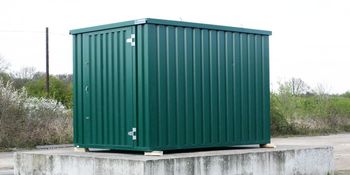 These are not quite as strong as used shipping containers, but still made from steel and fully lockable. These are more than adequate for most types of storage, and can also be bought in flat pack form to save on costs. Because
flat pack containers
are man portable, they allow more flexibility over positioning and movement than pre assembled containers.
Containers Direct now do a range of purpose built steel storage containers that can be made to any size required - not just the length, but the width too! For some examples, take a look at these
5ft wide
and
10ft wide
containers
.