30FT QUALITY USED CONTAINERS
Friday 11 January 2013 Filed in: General
New for 2013! Last year the focus at Containers Direct was on producing a quality range of smaller cut down containers with a choice of doors, to make great storage containers. Now we have embarked upon operation 30ft containers! By taking one 40ft shipping container into our workshops, we combine our specialist equipment with our design skills to produce two new storage containers – one 10ft and one 30ft. Read more to learn about the benefits of our 30ft containers
Why we make 30ft containers
30ft containers are usually hard to come by, as they are not manufactured as a standard shipping container size, but in the storage market the demand is there for something in between the standard 20ft container and the enormous 40fter. So Containers Direct are bridging this gap with our production of 30ft containers. The advantage of producing these in our own workshops is that during the conversion process, we can give our customers a choice of doors to make for more convenient storage use.
Choose the flat panelled S1 door for a lighter, easier to use door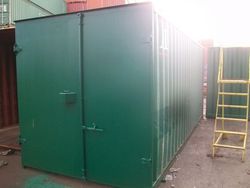 S1 doors
are highly recommended for users who don't regularly access the gym, or prefer to avoid a wrestling match to gain entry to their container, as shipping container doors are quite heavy and can be a struggle to open and close.
Choose the rubber sealed S2 door for maximum security and water tightness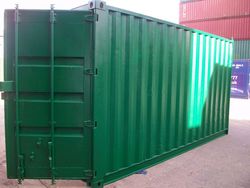 S2 doors
are the original shipping container doors, and are particularly well suited for use on construction sites.
Choose S3 doors to combine the best features of S1 and S2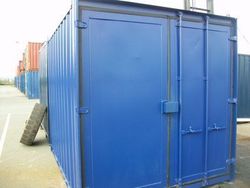 S3 doors
are light and easy to use with the added bonus of the rubber seal.
Additional doors and side doors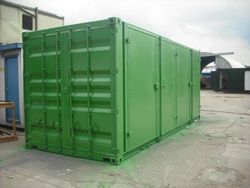 With a whole 30ft of space to work with, we can reposition the container door along the side of the container if required (the standard position for the container door is on narrow end), or even add side doors in addition to the end doors. This can make access to your container much easier. Any number of doors/combinations is possible on a 30ft container. For example, this
side opening container
has three sets of doors in total – the S2 door has been left in place on the end , and two sets of S1 doors have been fitted into the side. A member of our sales team can discuss the options available to best suit your individual needs.
Respraying and anti condensation treatment as optional extras
Choosing these options can enhance the appearance and extend the life of your container. We use
grafotherm
anti condensation spray on the ceiling and interior walls to maintain optimum dry conditions inside the container. A wide selection of
colours
are available for exterior repainting.