40ft High Cube with Side Doors - Case Study
Monday 27 March 2023 Filed in: General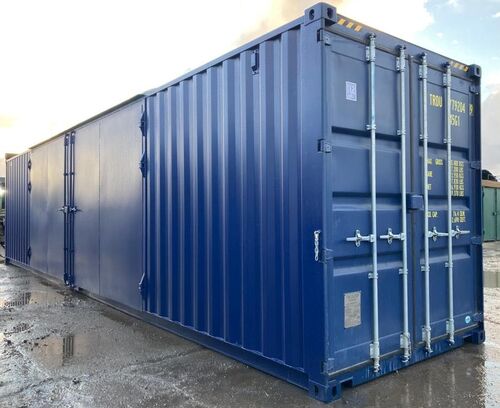 Our client needed a container as a workshop for the restoration and maintenance of classic cars, so they chose a 40ft long high cube container, which provides an extra foot of height. We were able to fit extra wide doors into the long side of the container to open up a whole 20ft of space for access. Most of our side doors are S1 style, which are made from flat steel panels, instead of corrugated ones, making them a lot less cumbersome to open and close! The 20ft door width is wide enough to accommodate a fork lift, while the original cargo doors at the end have been retained as another access point to the container. A combination of side and end doors gives even more loading options to large shipping containers. Find out more about this conversion CS79996.
More about side doors
Our most popular side door option is a
single set of 8ft wide S1 doors
- the end door can either be retained or closed up with a blank container wall build, We can fit these into any container over 8ft wide. Other options to give your extra access include
two sets of doors in the side
. Each set of flat panel doors is 8ft wide, so this option works best containers 20ft and over.
Our
20ft wide doors
as shown in the featured case study, can be fitted into containers 20ft long and over. So when used in a 20ft container you have pretty much full side access - a lot cheaper than buying a new container manufactured with full side access doors!
Other door types to choose from


Upgrade your side doors to S3 doors, which have a double locking arm and compressed door seals for additional protection against water ingress.
The S4 door is a
roller shutter
, suitable for either the end or side of your shipping container.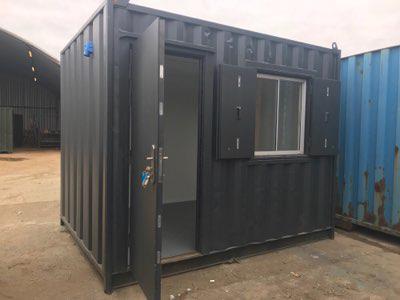 We can also fit a
personnel door
into any shipping container. These are suitable for pedestrian use, and are a feature of
container conversions
such as
portable offices
.