CONDENSATION FREE CONTAINERS
Tuesday 20 December 2016 Filed in: General
In the winter months condensation can be a big problem, as cold weather can play havoc with moisture levels inside your container. So we'd like to share some tips on how to keep your container condensation free during the winter months
What causes condensation?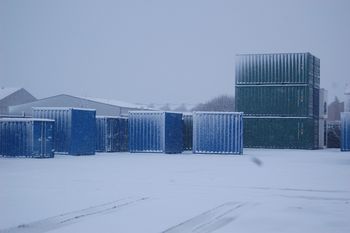 When the temperature drops outside, the steel body of the container becomes very cold, moisture forms, which then runs down and drips onto the container contents. Without adequate ventilation over time this can cause mould and mildew to form on items which are made from materials such as card, paper, wood and fabrics.
Ways to combat condensation in containers


The Absorpole - cheap and simple, these are hung inside the container and contain a a desiccant to absorb some of the trapped moisture. Effective for mild to moderate condensation levels.



Grafotherm - an absorbent coating sprayed directly onto the ceiling of the container. Effective for moderate condensation levels



Ply lining and insulation - the walls and ceiling of the container are lined with rockwool insulating material, and then layered with plywood panels. This is THE complete condensation elimination method.