CONTAINERS DIRECT EXPANDS DEPOT
Sunday 10 March 2013 Filed in: General
To cope with an increase in demand for cut down containers from Containers Direct, this month has seen an expansion to our depot to make way for a larger and improved fabrication department. This means we can now provide a faster and more specialised service to customers requesting containers in non standard sizes, or wanting to take advantage of the various door options we offer.
The containers we produce in our expanded fabrication department are designed for storage, and can be customised to your individual requirements. Because we use second hand shipping containers as the starting point for our conversions, we can give our customers both unbeatable value and quality.
Our latest containers from our fabrication department
Shipping containers make the most secure and resilient containers available, and can be cut to virtually any size, so whether it's large or small you need, let us know and we can provide it! This week we have been producing
15ft cut downs
with a choice of three door types:
S1 doors

steel flat panels
lightweight
easy to use
single locking bar
S2 doors

original shipping container doors
corrugated steel
rubber sealed
two locking bars
S3 doors

steel flat panels
lightweight
easy to use
two locking bars
rubber sealed
More door options - side doors and additional doors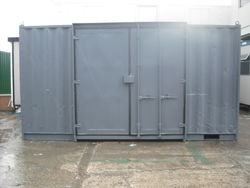 To give our customers even more choice and flexibility, our fabrication department can reposition the container doors to the long side of the container (available with S1 and S3 doors). In addition to this, we also offer the option of extra doors. For example, you can request the original S2 door to be kept in place, and add an S1 or S3 side door. Or have two sets of side doors, to make for easy loading and unloading. The only restriction on how many set of doors we can put in is the size of the container!
This 20ft open sided container has three sets of doors to make light work of loading and unloading, and give you unrestricted access to your container from any angle.
To take advantage of the options offered by our recent expansion, call our sales team on 0800 061 2575 to discuss your individual requirements. Repainting, anti condensation treatment and specialist container locks can also be added to complete the package.