CONTAINERS OF THE MONTH
Monday 19 March 2018 Filed in: General
Our new feature "Containers of the Month." puts the spotlight on our recent best sellers, special offers and new additions. This month our best selling container has been the 20ft once used with S2 doors, closely followed by our current special offer products, the 14ft high cube with S1 doors, and 20ft used high cubes. Read more to get the deal.
20ft S2 once used containers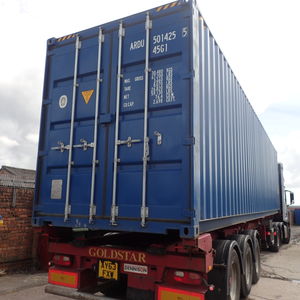 A versatile container, whether you're looking for a storage unit in top condition, or a long lasting, hard wearing base for a
conversion project
, the 20ft S2 is your go-to box. 20ft containers represent great value for money compared to other sized containers, as they are a standardised ISO size. The doors are original ISO doors, which means they are exceptionally secure, and include a watertight, rubber seal to protect against water ingress.
This month we are retailing our best selling,
once used 20ft ISO containers
at just £2150 plus VAT. These containers are like new, with just one transportation trip made to arrive on our shores. Reserve yours today, while stocks last.
20ft used high cube containers
Get a free foot of height on you container when you buy one of these! We are selling our
used 20ft high cube containers
for the same price as standard height 20fts. Chose from S1 or S2 doors. Standing at 9' 6" tall, high cube containers are great for packing more in, without having to find extra ground space, and for extra tall loads, like plant machinery. At £1455 plus VAT these boxes won't be around for long.
14ft S1 high cube containers
With £75 off our usual retail price, this is a nice, neat size, again with an extra foot of height to play with. S1 doors are a made from flat, steel panels, which makes opening and closing them much less of a wrestle.
14ft S1 high cube