Do I Need My Shipping Container Repainted?
Thursday 18 June 2020 Filed in: General
Painting your shipping container can dramatically improve its appearance, especially if you have a used shipping container. It can also extend the life of the container as it adds a protective layer against the elements. Containers Direct offer a free repaint on all used containers purchased under 20ft, but we can paint any container, new or used. Find out more about the process of repainting shipping containers.
Why should I have my shipping container repainted?
The answer is that you don't need to have it repainted if cosmetic appearance isn't an issue for you.
Shipping containers
are made from
Corten steel
, otherwise known as weathering steel, which means that the rust that forms on them is impermeable – it forms like a scab on the container and protects the metal underneath. As long as the container is watertight in all other respects then you can leave the container as it is. However, rust can be unsightly and if you have purchased a
used shipping container
, which will most likely be between 10 and 15 years old, then along with rust patches it will also be showing dents, scrapes, dirt and paint flakes. If you want your container to look good, especially if you are siting it at home, or on your business premises, then a repaint is the best option for covering unsightly wear and tear.
Painting used shipping containers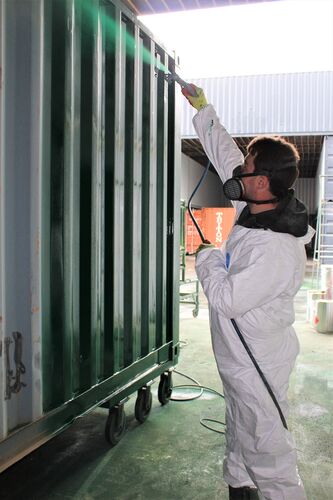 All painting work is carried out in our own workshops, before delivery. If you already have a shipping container it would be economical to carry out the paint job yourself. Here's how we do it!
Remove any surface dirt, rust and paint flakes and sand down the surface of the container until it is as smooth as possible. We use a wire brush for this.


Using marine grade, self-priming paint we lightly dust the container with one coat first, letting if fully dry.


Using a paint spray gun, we then coat the whole container.
We have a full range of colours to choose from. The most popular colours are blue and green, as we already hold a stock of these pre-painted containers ready for quick dispatch. For other colours there is a longer lead time but the good news is that you can have any colour you want! For very light or bright colours, such as white, yellow, orange and red, there is a supplementary charge over our standard repainting rates, as the light colours require additional coatings, and the cost price of bright paints is more expensive. We don't recommend painting used shipping containers in light colours as the results will not be the best.
Painting new shipping containers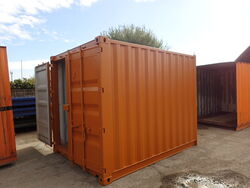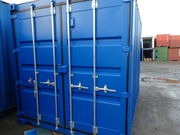 The wear and tear of
new shipping containers
is minimal, but you may want an alternative colour to the standard blue and green that new containers mostly come in. For instance, you may want to match it to your corporate colours. We can either mask the door seals and locking arms when painting to retain the original look, or paint over them if this isn't an issue.
If you are unsure what type/colour of repaint is the best for you, our sales team will be able to advise you further.
For a full list of prices and colours available see our RAL chart.