Flat Pack Containers - Now available with Insulation
Tuesday 28 June 2022 Filed in: General
Banishing condensation the easy way! Until now our flat pack storage containers could only be insulated by buying a separate insulation pack as an optional extra, and fitting it yourself. The good news is that if you want an insulated flat pack you can now cut out the complication and buy a flat pack container with pre-insulated panels.
Why insulation is important
Condensation can be a nuisance in metal storage containers as they are affected by swings in temperature, particularly in the winter. Depending on what you store in your container insulation can be crucial to keeping goods free from moisture damage, with paper, card and textiles being most affected by damp conditions. If you're likely to be storing items of this nature then we highly recommend getting an insulated container.
About our flat pack insulated containers
We are the UK's top retailer of the ExpandaStore® range of
flat pack containers
with a reputation for quality, durability and strength - you won't find a better build of self-assembly storage containers then a genuine ExpandaStore®! They are also quick and easy to put up and take down again, fully man portable and ideal for small spaces that have restricted access making delivery of a standard shipping container impossible.
Flat pack containers consist of panels are slotted and screwed together during
assembly
. The insulated ExpandaStore® has panels consisting of an inner and outer skin with 40mm Polyurethane insulation in between and glass wool inside the door panel, which provide insulation inside the container. For more details view our insulated products: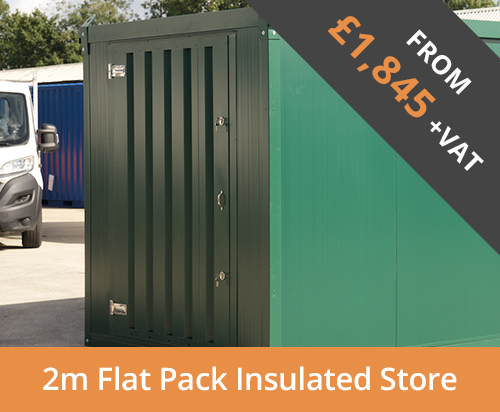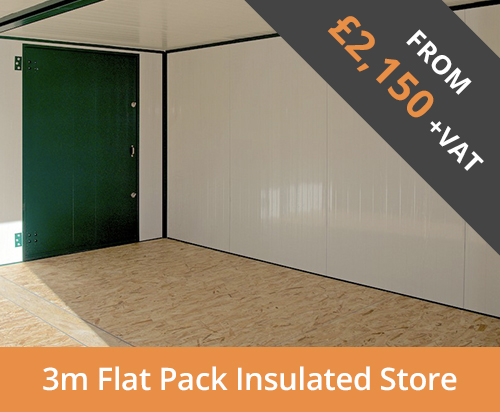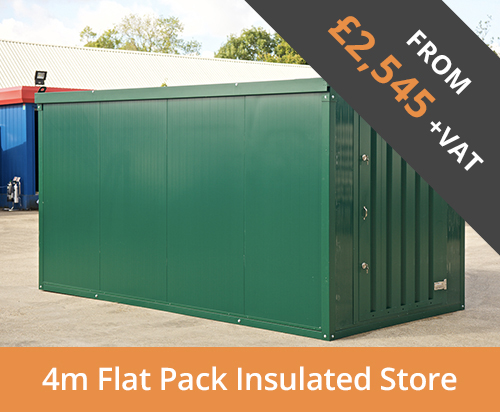 Joining up insulated flat pack containers
All our self assembly container are modular, meaning they can joined together with a simple linking kit to create an area of storage space that is big enough for your own requirements. Public facing businesses and operations are combining the insulated storage container with our new
insulated kiosk
that features a large lift-up serving hatch for public facing services, which could include ticketing, information or catering.