GRAFOTHERM IN SHIPPING CONTAINERS
Wednesday 14 March 2012 Filed in: General
Containers Direct are now selling shipping containers treated with GRAFOTHERM as a cheaper alternative to lining and insulating shipping containers with plywood, and a simple and innovative way to ease condensation nightmares.
What is Grafotherm?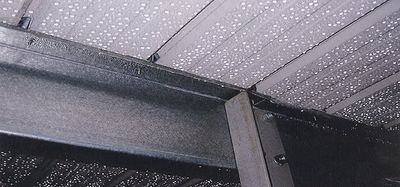 Grafotherm is an anti condensation coating that slows down the problem of dripping roofs in shipping and storage containers, thus reducing damage to stored goods. In the winter months condensation can be a big problem in containers, as the temperature drops outside and the steel body of the container becomes very cold. Moisture forms on the container, which then runs down onto the container contents. If the container is storing delicate items, such as household goods, papers, or archived documents, this can be disastrous, which is why many containers are either treated with grafotherm to help guard against this, or
lined and insulated
to solve this problem.
A cost effective alternative to traditional methods
For a long time lining
steel containers with plywood
has been the best solution to the problem of condensation, as timber will absorb moisture, preventing drips and runs. However, grafotherm is now being used as an effective and cheaper alternative to plywood lining. Ideal for 'everyday' container use, Grafotherm is simply applied to the interior roof.
So how does Grafotherm work?
It has three main properties that make it a superb all round condensation buster!
prevents heat loss, therefore maintaining a higher ambient temperature inside the container to stop condensation forming


has a capillary action that absorbs moisture as it forms


textured surface aids rapid evaporation when drying conditions return
Using Grafotherm also prolongs the life of the container as keeping the container dry increases protection against corrosion.
Please be aware, as Grafotherm is a water based product, it may draw out existing rust patches to the surface. While this patching may be evident, the effectiveness of the product is in no way compromised.

Grafotherm can take up to three weeks to fully dry, especially in cold weather, therefore the container roof may be wet during this period.
For more information on Grafotherm visit their website http://www.grafoproducts.co.uk/contain.htm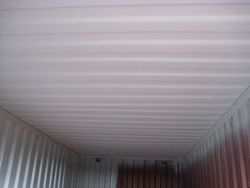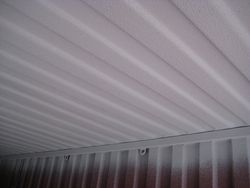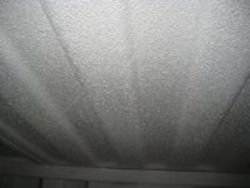 Insulating with ply lining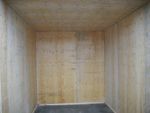 For 'belt and braces' cover against condensation caused by extremes of temperature, ply lining is the most resilient option. See our article on
ply lined containers
for more information