Metal Containers with Side Doors!
Monday 19 April 2010 Filed in: General
The doors of
shipping containers
are usually found at the narrow end and for most people this is ideal. On occasions, however, our customer need access via the side of the container or even access at both ends- well that is an easy ask for us here at Containers Direct! We are lucky to have our own container conversion workshop. We can offer a container with a personnel side door or indeed a row of side doors
check this one out
. If it's
double barn doors
in the side or and additional set in the end that's no problem either – why not send an enquiry through our website or ring us free & ask for James from our CAD team. Remember, with container conversions – we will not be beaten on price!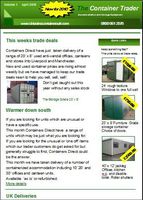 If you are interested in out range of non-standard containers why not subscribe to The Container Trader , our new monthly newsletter which offers a preview of all the latest products which we have purchased. Some are ready for delivery, others are in an as is state.

We work with trade customers in order to meet their requirements through offering a full refurbishment service.

Containers Direct also offer a comprehensive package which includes:
Electrical test and installation
Internal refit and professional cabin clean
Steel fabrication and alteration work
Interior and exterior painting
Bespoke fit out
On site installation
Transportation and crane into position

Retail customers may be looking for an item which is not standard. We stock non-standard and downright unusual which may just meet your requirements.

Email us today for your copy

Another non-standard option from Containers Direct

Flat Rack Shipping Containers


We have taken delivery of six flat rack shipping containers. These are plated & certified for shipping.click here