NEW VS USED CONTAINERS
Friday 31 July 2015 Filed in: General
Not sure whether a new or used container is best for you? What's the difference in quality and performance between the two? And how much value can you expect to be added in paying extra for a new container? For the answers to these questions and more, read on...
Used shipping containers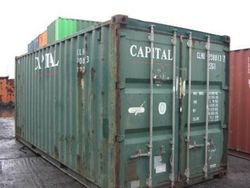 These offer great value for money, as shipping containers are built to last! Made from robust, weather resistant Corten steel, a few years normal wear and tear isn't going to affect the structural performance of the container much. Typically used containers sold on to the storage and conversion market are around 10-15 years old, and should be free from intergral structural damage, and fully watertight. All used containers sold by Containers Direct come with a 12 month warranty to this effect.
COSMETIC APPEARANCE
While structurally sound, the outward appearance of a used container will vary. After being handled many times at ports and container depots across the world, and completing many journeys across high sea, the ravages of time will be obvious on the container - dents, scrapes and surface rusting. Surface rusting is completely normal on corten steel, which is designed to 'weather' in this way. For more on this process, see our article
Corten Steel Containers
Repainting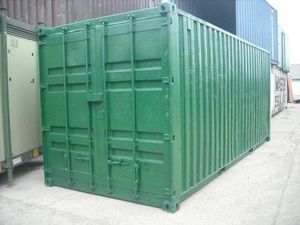 The appearance of a used container can be considerably improved with a coat of rubberised, marine paint. Not only will this cover wear and tear and make the container appear much newer, it also gives protection against further deterioration. For smaller containers, we provide this service free of charge, and for containers 20ft plus, we offer competitive prices, in a
wide range of colours
.
New shipping containers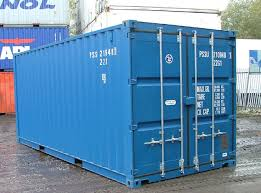 Almost all new shipping containers arriving in the UK have been manufactured and exported from China - as one would expect this is due to low labour costs, with China producing over 80% of the entire world supply of shipping containers! Although generally referred to as 'new' containers, they are exported with cargo (which keeps transportation costs down to benefit all parties), so technically these are 'One Trip Containers'. There may be some evidence of handling, as the transit of a shipping container is an arduous process, but under normal circumstances the cosmetic appearance of these containers should be far superior to used containers.
Cost of Used vs New
As a guide to price difference, typically our standard 20ft used containers retail at £1340 (excluding repainting) and our standard 20ft new containers retail at £1900