Our Favourite Shipping Container Homes From Around The World!
Thursday 16 April 2020 Filed in: General
Mobile, versatile, and with a low carbon footprint, shipping containers are gathering momentum as the building blocks for new homes. Take a look at some of the most ambitious and visually stunning shipping container conversion homes that are setting the world of architecture and construction alight.
Are shipping container homes cheaper than a traditional house?
With good planning and design a shipping container home can cost around half the price of a standard house of comparative size and design. The shipping container homes featured here are stunning, high-end buildings incorporating impressive luxury features, but the trend for small residences built from just one or two shipping containers is also on the rise, especially as temporary holiday homes, hotel accommodation and as a solution to homelessness. For instance the Help Bristol's Homeless project that has seen 15 containers converted into temporary accommodation.
The building blocks
On the mainstage of all
shipping container conversions
are the
20ft shipping container
and the
40ft shipping container
. These are the standard lengths to which all containers are manufactured, with a width of 8ft and a height of either 8ft 6in or 9ft 6in –
high cubes
are more popular for accommodation as the extra foot in height helps to "open up" the container and give a more spacious feel. Many commercial shipping container conversions use high cube containers. Both
new shipping containers
and
used shipping containers
are suitable for conversion projects, with used containers being popular with the ethos of upcycling, and keeping costs down.
Our top 6 shipping container homes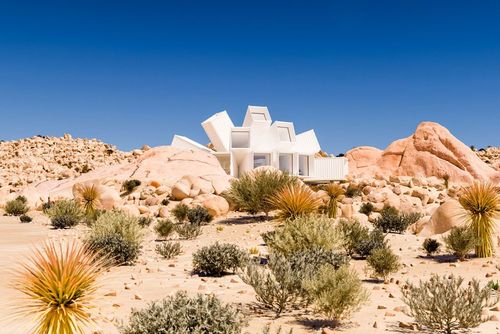 Joshua Tree Residence
This must be one of the most striking shipping container buildings in the world. It is located in the California desert and comprises of a starburst-like conglomeration of white containers.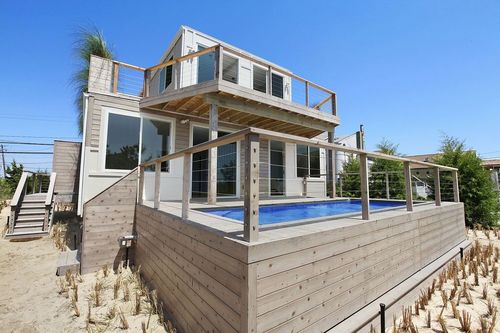 The Beach Box
Residing on the affluent area of Long Island, the Hamptons, this shipping container mansion, complete with swimming pool, was listed for nearly 1.5 million dollars!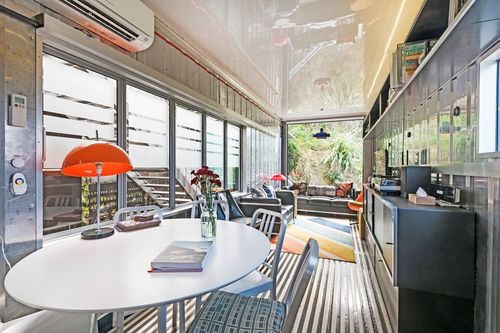 The Wellington Container
Take a look at the inside of a luxury shipping container home! This Airbnb vacation home in Wellington, New Zealand, was built from three stacked shipping containers and has its own screening room and hydrotherapy spa.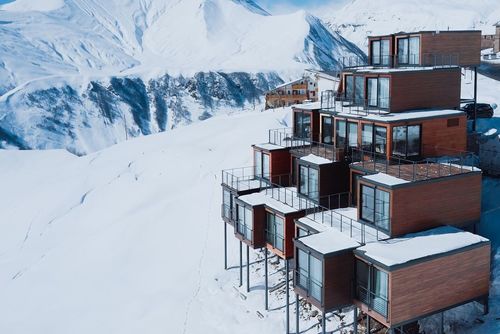 Quadrum Ski & Yoga Resort
Another holiday home, at the ski resort in Gudauri, Georgia. The building features stacked shipping containers clad in wood panelling, creating a modernist ski lodge contrasting with the Caucasus Mountains backdrop.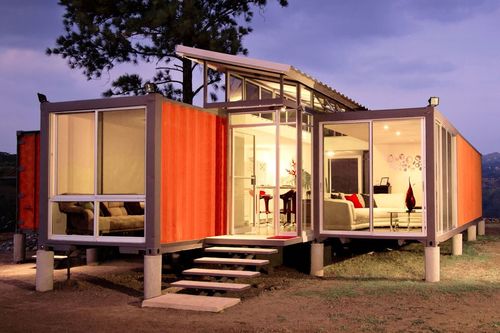 Containers of Hope
Owner of this beauty worked within a budget of just $40,000 to build their dream home near San Jose, Costa Rica. Using two recycled shipping containers helped keep the project within budget.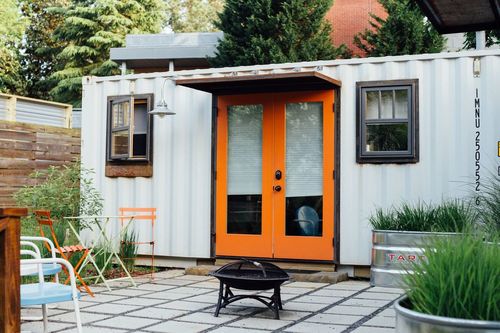 Tiny Shipping Container House
And now for something smaller. A container conversion doesn't have to be big and bold to make its mark. You can stay in this tiny shipping container, an eco-friendly vacation rental in Atlanta, Georgia. The cosy unit has a lovely patio, a hammock, and a firepit.